The new Reebok Edge jerseys that the Rochester Americans will be wearing for the 07/08 season were 'revealed' in EA Sports NHL '08 earlier this month, and as expected they are exactly what they'll be wearing as Recognition Experts now has them for sale online.
Looks like we'll see these in action at Fridays pre-season game against the Syracuse Crunch, one would've expected an 'official' press release by now, but here they are: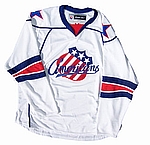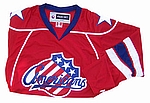 The jerseys are no longer baggy as we've all known for decades, welcome the new lightweight streamlined jerseys that cling to your body and are resistant to moisture.  Many fans in the past have stuck with wearing their jerseys only on game days due to the size of them.  On a recent trip to HSBC arena for a morning at the Sabres training camp I tried on one of the new style of  jerseys and was amazed how it'd be much more comfortable to wearing more often.