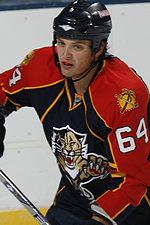 The Amerks are now the only team left in the AHL with two parent organizations.  It would seem there is a reason for that. 
It was only a matter of time before call-ups started happening for the Amerks.  They do for every AHL team.  They are always going to be a part every minor team and only add to the frustration of our own injuries and problems.
With players like Mike Van Ryn and Rostislav Olesz and ex-Amerks like David Booth and Noah Welch being injured for the Florida Panthers, call-ups are needed to replace them.  And that would be fine…
If not for the fact that the Amerks have another parent team who is also very good at getting themselves injured.  With Jaroslav Spacek out we have already seen the Buffalo Sabres dipping into their pool of reserves.  And to make matters worse, in tonight's game (10-24), both Paul Gaustad and Dmitri Kalinin were injured.
While there is no word on how bad their injuries are, one thing will be certain…the Amerks will be losing more players for their game on Friday night.
With only nine games played, the team has already lost Anthony Stewart (getting Rob Globke in return), Kamil Kreps, Stefan Meyer and Andrej Sekera.  Who will be taken this time?  Leading scorer Clarke MacArthur?  A top defenseman?  Just another bite taken out of a team looking to stop a five game losing streak. 
Maybe things wouldn't be so bad if either parent team was willing to put their money where their mouth is.  The Amerks have no veterans this season.  No one to help develop the extreemly young players on this team into something Calder Cup-ready (or NHL ready for that matter).
Last season there was one veteran on the team and he had to be supplied from money out of the Amerks own pockets. 
Maybe the time is coming to look into other options for the Rochester Americans.  It may be time to break free of the Sabres if they aren't willing to have a single affiliation with Rochester.
With fifteen starting players on the Sabres who were brought up through the Rochester system, you would imagine the Sabres would find them to be an important part of the team.
With a long term lease with the Blue Cross Arena around the corner, there have been surveys handed out at games and for season ticket holders asking what we should do about the affiliation situation.
The talk on the streets is this…
If the Sabres aren't ready to put money into the team that is supplying them with players, maybe it is time to find someone who will.  And the Panthers don't seem to have enough pro-ready players to make an AHL team on their own.
The day has come where a change needs to be made.  Either with one of the parent teams the team has now, or with another NHL affiliate.  But, one thing is for sure…something needs to change.