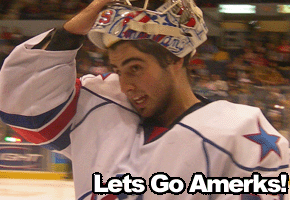 David Brine scored a short handed goal in the 2nd period, Adam Dennis faced a penalty shot in the third, and the team was able to hold the Hamilton Bulldogs scoreless for the full 60 minutes to finish the week with a three game winning streak.
At the end of the first period the game was scoreless, and both teams had recorded 8 shots, but the Amerks seemed to be in control of the game.
David Brine scored the game winning short handed goal at 10:42 of the second period, Martin Lojek was serving an interference penalty.  David Brine fed a pass to Tanner Glass as they skated into the Hamilton end, Tanner Glass' took a shot that was saved by Yann Danis of the Bulldogs, as the puck went behind the net Glass headed towards the bench for a change, Brine was able to pickup the puck behind the net and catch Danis off guard and slid it into the net.
The second period ended with the score 1-0.
Clarke MacArthur made the score 2-0 in the third period as he skated to the front of the net and was fed a perfect pass by Rob Globke against the boards to put the puck in the net for his league leading 8th goal of the season.
A few minutes later as the puck bounced around inside the crease of Adam Dennis and Bulldogs players surrounding, Mike Weber dropped to the ice and covered the puck which resulted in a penalty shot for the Bulldogs.  Adam Dennis made a great glove save to keep the score at 2-0.
Anthony Stewart capped the score at 3-0 late in the third as he was left alone and put a rebound into the net past Danis.
The team was able to stay away from making big mistakes that resulted in goals in previous games as well as holding the Bulldogs scoreless on four power play opportunities.
It was the best game of the season for the Rochester Americans as they extended there winning streak to three.  Since the start of the season it seemed as if playing back to back games was taking a lot out of the team, but after three games in three nights this weekend the team seemed to patch up everything that needed to be fixed, lets hope they can now be consistent, what they couldn't do through the first twelve games of the season.
Highlights from News 10 NBC:
Attendance: 8024
1. RCH – 53 Adam Dennis
2. RCH – 34 David Brine
3. RCH – 41 Clarke MacArthur
Additional coverage of the game:
svgallery=11-03-2007