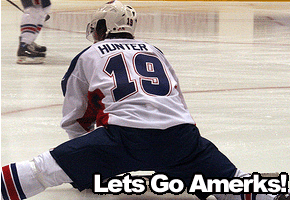 Today, Dylan Hunter was named the Rbk/AHL Player of the Week for the week ending November 5, 2007.  Hunter registered seven points for the Rochester Americans this weekend in their tough three games in three days schedule. 
On Thursday, Hunter had one assist in the Amerks 3-1 win in Grand Rapids.  Back at home in Rochester on Friday, Dylan had a great game.  He registered two goals and three assists.  This gave him a hand in every goal in the 5-3 victory over the Grand Rapids Griffins.  Again on Saturday, he had another assist in the 3-0 shutout of the Hamilton Bulldogs.
In honor of this award, Dylan Hunter will be presented with an etched crystal award prior to an upcoming Americans home game (TBA).
This is Dylan's second year with the Rochester Americans.  Last year, he registered 8 goals and 20 assists for 28 points in 67 games.  This season in the first 14 games, he has scored 5 goals and 6 assists for 11 points.
Prior to playing for the Amerks, Hunter was the captain of the London Knights in the Ontario Hockey League.  In five seasons with the Knights, Dylan scored 369 points (95 goals and 274 assists).  He was also on the OHL all-star team three years in a row.
In his last season with the London Knights, Hunter had a mere 117 points when he had 32 goals and 85 assists in 62 games.  That season he was named Best Defensive Forward and the Booster Club Player of the Year.