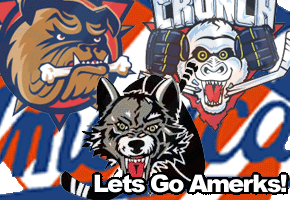 On Friday night the Rochester Americans begin another three game weekend in Hamilton against the Bulldogs, followed by Syracuse Crunch on Saturday, and a home game against the Chicago Wolves on Sunday.
The Amerks are coming off of two consecutive three game weekends and are on a three game winning streak.
The team will possibly be without many key players, Clarke MacArthur and Anthony Stewart were both recalled to the NHL earlier this week.  Both players have played an important role in the games they've played, MacArthur leading the way with the most points in the AHL.
Also still in the NHL are Kamil Kreps and Andrej Sekera.  Other players who may still be out due to injuries are Drew Larman (Seperated Shoulder – expected return the weekend of Nov 9th), Kenndal McArdle (Broken Jaw – weeks away from return), Mike Funk (Groin – Day 2 Day), and Jassen Cullimore (Groin – Day 2 Day).
Patrick Kaleta is expected to be back on the ice this weekend after recovering from a groin injury.  He has played in only two games this season due to reinjuring his groin in his second game back.
Friday's game in Hamilton against the Bulldogs begins at 7:30PM.  The Amerks look for vengence on Saturday in Syracuse where a 9-2 loss was handed to them the last time they visited the rivals down the I-90.  That game also starts at 7:30PM.
Sundays home game is part of "Supercuts Sundays," kids ages 2-12 can get tickets for $6.00, game time is at 6:05pm!