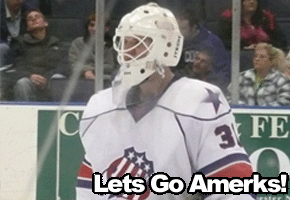 The Rochester Americans lost to the unbeaten Chicago Wolves in a shoot out at Blue Cross Arena.  The Amerks ended another 3 game weekend with 3 out of a possible 6 points.
 Patrick Kaleta returned to action this weekend and didn't waste any time tonight when he got into a fight with Joey Crabb not even three minutes into the game.  He was able to throw a number of punches, most of which landed against Crabbs' helmet.  Kaleta did what he does best, threw his body around, knocked opponents off the puck, and had fans cheering his name.
Tanner Glass scored the Amerks only goal of the game at 6:40 of the first period, and only goal in the first 59 minutes of hockey.  The goal was assisted by Rob Globke and Dylan Hunter.  Tanner went around behind the net, took the pass in front and he put it into the net for his second goal of the season.
Franklin MacDonald was sent to the penalty box at 18:20 of the third period for holding which led to Steve Martins of the Wolves tieing the game at 1 with 59 seconds remaining.  The goal was scored on wrist shot that just barely snuck past Shantz.
Marc-Andre Gragnani was the only Amerk to score in the shootout.  Mark Mancari, Franklin MacDonald, Marek Zagrapan, and Tanner Glass also made attempts.  Jason Krog and Kevil Doel scored for the Wolves to give them the shoot out win.
The Amerks finished the game with 27 penalty minutes giving the Wolves 10 power play opportunities.  The Amerks were unable to capitalize on 5 power play opportunities.
 David Shantz made 39 saves in the game in his 4th loss of the season.  He did a great job keeping the team in the game, a much better job than many fans expected.
Additional coverage of the game: