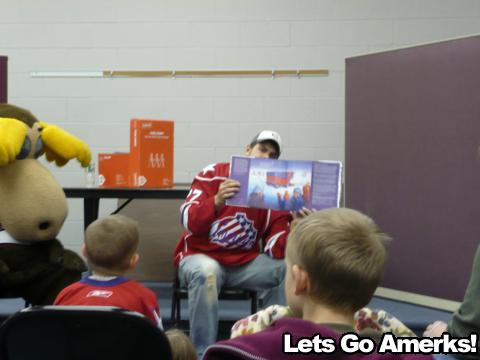 Patrick Kaleta made an appearance tonight at the Ogden Farmer's Library for the "Reading Power Play" series being put on by the Rochester Americans and the Monroe County Libraries.
After reading Z Is For Zamboni: A Hockey Alphabet, Kaleta showed off some Amerks' hockey equipment with some volunteers and then he and the Moose signed some autographs.
There were trivia questions for a chance to win Amerks' prizes, with questions geared towards the younger kids and older kids alike.  Free tickets to the December 7th game against the Toronto Marlies were given to every child tonight.
There are plenty of other chances to see your Rochester American players at a local library.  Tomorrow afternoon, you can catch David Brine at the Lincoln Branch Library.
NOVEMBER READING APPEARANCE SCHEDULE
Tues., Nov. 13th at 3:30 p.m. at Lincoln Branch – David Brine
Wed., Nov. 14th at 4:00 p.m. at Sully Branch – Patrick Kaleta
Tues., Nov. 27th at 4:30 p.m. at Monroe Branch – Drew Larman
Tues., Nov. 27th at 7:00 p.m. at Mendon Public Library – Mike Weber
Wed., Nov. 28th at 7:00 p.m. at Charlotte Branch – Tanner Glass
And don't forget about the "Go-Kart Challenge" at Inside Track Speedway on Saturday night (November 17th) from 5:00-8:00PM.  Here people can race their favorite players in go-kart races for $6 a race.  Portions of the proceeds will go to AIDS Rochester.
At the go-kart races, there will be silent auctions for used Amerks' gear all to benefit AIDS Rochester.  Don't miss out on the fun.
svgallery=11-12-2007_readingpp