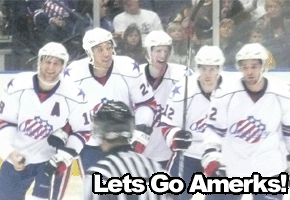 Last night the Rochester Americans held on to beat the Lake Erie Monsters 3-2.  This was the first time the Amerks ever played the new affiliate of the Colorado Avalanche.
Within the first 20 seconds of the game, the Americans lost a defenseman for the game.  Mike Card took a hard check on the boards and may have sustained a concussion.  He had a hard time getting off the ice himself but seemed ok after the game.
The Amerks got on the board first when Anthony Stewart put one away at 9:00.  The goal was assisted by Mancari (15) and Weber (6).  The Amerks were then on the penalty kill for four minutes.  Patrick Kaleta took two consecutive penalties (Holding at 13:55 and Goaltender Interference at 16:17).  The Amerks were able to hold off the Monsters and left the period with a 1-0 lead.
Coming into the second period, the Americans were not going to allow the same mistakes to happen two nights in a row.  When Codey Burki of the Monsters went to the penalty box for interference at 1:50, the Amerks took advantage.  Dylan Hunter netted his 7th goal of the season at 3:16.  The goal was assisted by Stefan Meyer (7) and Peter Aston (4).
Eric Healey brought the Amerks' lead back to one when he scored at 7:27.  The second period ended with a score of 2-1.
The third period was a big one for Peter Aston.  After playing 17 games for the Rochester Americans, Aston netted his first professional goal at 2:48.  The goal was assisted by Anthony Stewart (8) and Andrej Sekera (5).
The Monsters once again brought the Amerks down to a one point lead when Matt Hussey scored a shorthanded goal at 11:39.  This is the second game in a row that the Amerks had a short handed goal scored on them.
Adam Dennis stopped 17 of 19 shots on goal.  In a good showing, the Amerks finally outshot a team with 33 shots against the Lake Erie Monsters.
The three stars of the game all came from the Rochester Americans.  The third star was Dylan Hunter with one goal.  The second star was Anthony Stewart with one goal and one assist.  First star honors went to Peter Aston with one goal and one assist and +1 for the night.
The Rochester Americans are now 9-10-1-2 for the season.  They are currently in 3rd place in the North Divsion.
Additional Coverage of the Game: