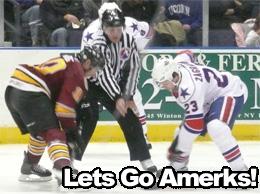 Too little, too late is quickly becoming the motif of the Rochester Americans.  After allowing three goals in the first nine minutes of play, the Amerks were left playing catch up to the Chicago Wolves the rest of the night.  Something they never managed to do.
Only 1:56 into the first period, Joey Crabb scored his 4th goal of the season.  Barely two minutes later after a hooking penalty by Kenndal McArdle, Brian Fahey scored a PP to make the score 2-0 Wolves.  At 8:38, Colin Stuart put another one in the back of the net.
Patrick Kaleta got himself on the board for the first time this season at 19:18 with assists from Drew Larman and Kenndal McArdle.  The first period ended with a score of 3-1.
The second period looked to be going the Amerks' way.  They put ten shots on goal up in the first five minutes of play.  On that 10th shot, David Brine tucked away his 3rd goal of the season, bringing the game within one.  His goal was assisted by Kaleta and Franklin MacDonald.
McArdle took a tripping penalty at 13:20, shortly followed to the penalty box by Martin Lojek who got another penalty for hooking at 13:34.  This gave the Wolves an opportunity they took advantage of.  Joel Kwiatkowski scored his 6th goal of the season to cushion the Wolves' lead back to two goals.
Coming into the third period, David Brine wasted no time getting himself on the board again.  He scored his 4th goal of the season at 2:08 assisted by McArdle and Kaleta.
The Amerks fought the rest of the period trying to get that one last goal to tie things up.  They had a great chance with a 5-on-3 opportunity near the halfway point in the third period.  The Wolves killed off the first penalty and then Mark Mancari took an interference call to help kill off the second.
Brett Sterling scored an empty net goal with 39 seconds left to end the game 5-3.
David Shantz saved 23 of 27 shots faced tonight.
With his first three points of the season, Patrick Kaleta was the second star of tonight's game.
Tomorrow, the Americans travel to Rockford to take on the Icehogs at 8:35PM.  The game will be broadcast live on Hot Talk 1280 WHTK, whtk.com and B2 networks. 
Three Stars of the Game:
CHI – 10 Jason Krog
RCH – 27 Patrick Kaleta
CHI – 8 Joel Kwiatkowski
Additional Coverage of the Game: