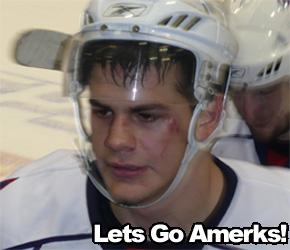 Last night's game was anything but, pretty for the Rochester Americans as they lost 5-1 to the Rockford IceHogs.
The Amerks played a pretty solid first period with Clarke MacArthur scoring his 9th goal of the season on the powerplay at 17:38 to take the lead 1-0 going into the first intermission.
The second period looked about the same from the Amerks as they played a solid game until a successful penalty shot was awarded to Troy Brouwer to tie the game up.  And that is how it stayed into the third period.
The Amerks then began to fall apart as we have seen many times this season.  Only :41 into the 3rd period, Petri Kontiola scored to give the IceHogs the lead.  They never looked back.  They scored 3 more goals by the end of the game.
At 10:51 Kris Versteeg found the back of the net.  At 12:03 Cam Barker put one on the board.  And at 15:55 on a powerplay given to the IceHogs thanks to roughing from Adam Dennis, Petri Kontiola scored as well.
In the last seconds of the game, Patrick Kaleta gave a good check to Prestin Ryan.  Seconds later Ryan, along with Adam Berti and Danny Richmond, spinelessly jumped Kaleta.  One even sucker punched Kaleta when the melee was over.
If the AHL doesn't take action on a few of these players, I would be surprised…or maybe I wouldn't be.  Kaleta will probably not be playing in tonight's game against the Peoria Rivermen.
Adam Dennis saved 28 of 33 shots faced last night.  He also gave the IceHogs a powerplay in the third period that they took advantage of.  With his second penalty in that many starts, Dennis picked up 2 minutes for roughing.
The IceHogs should be happy they aren't going to see the Amerks again this season to see what would come of this altercation.  The kind of cowardness they displayed at the end of this game only shows what kind of Pigs they really are. 
128 penalty minutes were given out for the problems after the horn sounded.
Additional Coverage of the Game: