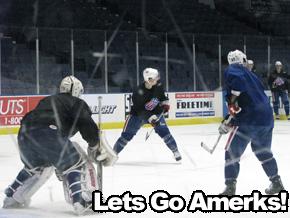 After losing to the Toronto Marlies on Wednesday night the team was back on the ice at 11am practicing for Fridays game against the Hamilton Bulldogs.  The focus of the practice seemed to be a simple one, scoring some goals.  During this current ten game losing streak the team has been outscored 40-19, four of those games were decided by one goal.  A few more were decided by two goals with an empty net goal scored by the opposing team (making it a basic one goal game).
So far this season the team is leading the league with 122 goals against while sitting around the middle having scored 84 goals.
A lot of time was spent heading to the front of the net to try and get rebounds, deflect shots in, and screen the goalies, something that needs to be done more of during games.
While the players continuously practiced 2 on 1 breaks, goaltenders Tyler Plante and David Shantz were working hard trying to prove who should get the start on Friday.  While Tyler Plante is the fresh face with the team, he hasn't yet proved that he should be the one to stick around once Adam Dennis returns.
Based on stats it would appear that the team needs to focus on defense to prevent goals, but if they can score more goals and take a big lead maybe they'll be able to hold on to win some games.
The bottom line is that in any team sport to win it takes a consistent 60 minute team effort, something rarely seen this season.