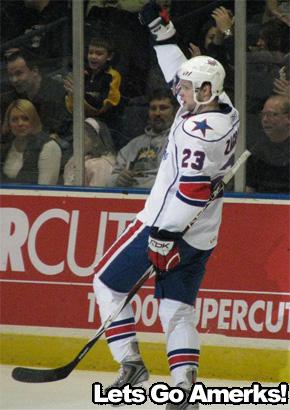 The Amerks scored a big win at home on Friday by the final score of 4-1 against the Hamilton Bulldogs and then shutout in Cleveland by the Lake Erie Monsters 3-0 on Saturday.
Tonight at Blue Cross Arena the Syracuse Crunch come in to town to end the weekend.  This season the Amerks are 2-2 against the Crunch, the last two games we saw the Amerks lose 4-0 and 9-2.
The win on Friday night was a big win as it ended a 10 game losing streak which put them in the record books in a tie with the '81 and '88 teams.  A win like that probably shouldn't be considered a big win, but for this season it was.  Marek Zagrapan had two goals and an assist, Marco-Andre Gragnani and Pete Aston also scored goals.  The team played a full 60 minutes of hockey, didn't allow any short handed goals, killed eight penalties, and had a solid performance in net by Tyler Plante.
On Saturday the Amerks out shot the Lake Erie Monsters 36-26 but they were unable to put any pucks past goaltender Tyler Weiman.  Here is a great write up of the game on Bleacher Report.
Roster Updates:
The Amerks signed Mathieu Beaudoin to a PTO (professional tryout) contract due to recalls of players to the Sabres and Panthers.
Anthony Stewart returned from Florida and played last night against the Monsters.
Martin Lojek has also been returned by the Florida Panthers and is expected back tonight against the Crunch.
Dylan Hunter, Drew Larman, and Mike Card are still all out with injuries, no time frame as to when any of them are expected back.
Edit: Clark MacArthur has been returned to the Amerks from the Sabres.  Clark MacArthur is still in Buffalo.
If the Amerks can give the same performance they gave on Friday night while being short on players they still have a shot at turning this season around.  See you at the game tonight, Go Amerks!