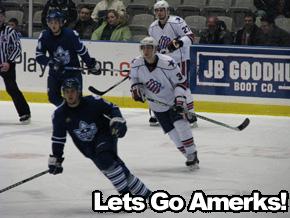 The Amerks were defeated by the first place Marlies 2-0 to lose in there third straight shutout and third straight loss.  They have now lost 13 of the last 14 games.
If not for great saves by Adam Dennis the score certainly could have been higher, Dennis was the third star of the game with 31 saves.  He had been out since December 19 when he suffered a minor groin injury.
Ben Ondrus scored the game winning goal at 11:19 of the second period on the power play when he was able to get his own rebound and shoot it high over Dennis.  Mike Weber had been in the penalty box after getting a boarding penalty.
Jeremy Williams gave the Marlies the 2-0 lead at 1:45 of the third when he received a great cross ice pass from Colin Murphy and then one timed the puck off the cross bar and into the net.
The Amerks were unable to produce any action on two power play opportunities.
It seems as of late with the arrival of Tyler Plante and tonights performance by Adam Dennis that goal tending is no longer the problem, it's our inability to score any goals.
Mark Mancari is second on the team in scoring with 7 goals and 19 assists was limited to under 7 minutes of ice time, he has not been injured but is getting less and less ice time every game.  Many times over the weekend we witnessed him being open but was never passed the puck.  I'm sure opposing teams have learned to close lanes to keep him from pulling off his slap shot, but at this point it can't hurt to let him try.
Meanwhile, Marco-Andre Gragnani who has the worst +/- rating on the team seems to be getting more ice time and was yet again on the ice during when the opposing team scored a power play goal.
Those are just two things we have noticed as of late which makes us wonder what's going on.  Anyone have any potential answers, thoughts, or noticed other similar things going?
The Amerks did see Adam Dennis, Mike Card, and Drew Larman all return to action after being out with injuries.  Clark MacArthur is nursing a hip flexor injury but is expected to catch a flight to Manitoba.  Andrej Sekera was out with the flu and did not make the trip.  Dylan Hunter did travel with the team which means he'll probably be playing this weekend on the road.
There next two games are against the second place Manitoba Moose who they have already lost to four times this season, and eight straight dating back to the 06/07 season.
Additional coverage of the game: