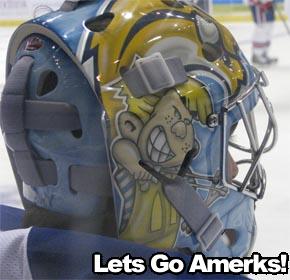 Adam Dennis
Goalie
02/08/1985
6'0"
190 lbs
Toronto, ON
Adam Dennis is a goalie with an unusual style who is cool under pressure.  He has been known for his success at the junior level, leading two teams to OHL championships and Memorial Cup Tournaments.
Dennis started his junior career in the Ontario Provincial Junior Hockey League (OPJHL) where he played 32 games with the Oakville Blades.
From there Adam moved on to the OHL where he played first for the Guelph Storm from 2002 until the middle of the 2004-05 season.  During his time with the Storm he played 87 games and came out with 44 wins, 27 losses and 10 ties.
In the 2003-04 season, Dennis helped the Guelph Storm win the Wayne Gretzky Trophy (Western Conference Champions) and went on to win the OHL Championship.  He also helped the team make their forth ever appearance in the Memorial Cup Tournament in Kelowna, BC.  The team took 4th place in that tournament that season.
On January 10, 2005, Dennis was traded to the London Knights where he played with teammates Dylan Hunter and Drew Larman.  The London Knights started their season off with 31 wins in a row that year.  Dennis helped lead them to the OHL Championship (his second in two seasons) and helped them win the esteemed Memorial Cup. 
The next season, Adam was named the 2005-06 OHL Goaltender of the Year.
Adam Dennis was drafted in the 2nd round (182nd overall) in the 2005 NHL Entry Draft by the Buffalo Sabres.
Last season (2006-07), Dennis played 35 games for the Rochester Americans.  He was the first goalie to earn wins in his first three starts since Mika Noronen.  He ended the season 18 wins and 17 losses.  He was recalled to the Buffalo Sabres twice to serve as Martin Biron's backup for three NHL games.
This year Adam has started 23 games and has a 9-12-0-2 record on the season.
Getting To Know Adam Dennis:
LetsGoAmerks: How old were you when you started playing hockey?
Adam Dennis: I started skating when I was three and actually playing hockey when I was four.
LGA: Who got you into playing hockey?
AD: I got into hockey just watching games with my dad when I was younger and really just enjoyed the game.
LGA: Do you have any siblings?
AD: I have one younger brother.
LGA: What is your favorite hockey moment?
AD: In juniors winning the Memorial Cup with the London Knights.
LGA: When you have free time what do you like to do?
AD: I like to spend time with my dogs.
LGA: What do you do during the off season?
AD: Mainly just train for next season maybe go camping or to cottages for a few weekends.
LGA: What is your favorite movie? Why?
AD: Rounders, because it's just a sweet movie!