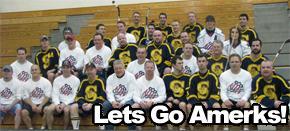 The Amerks Alumni Team made an appearance at Spencerport High School tonight to take on the Spencerport Rangers' Teachers in a game of floor hockey.  The teachers were coached by defenseman Mike Funk and the Alumni were coached by Drew Larman.
The Amerks' Alumni team was led by the likes of Scott Metcalfe, Jody Gage, Randy Cunneyworth and the coach of the Spencerport Rangers Varsity Hockey team, Craig Charron.
The game was announced by Don Stevens who invited everyone out to see the Amerks while they are on a "hot one game winning streak" on Wed.
The teachers may have lost tonight but, everyone had a great time.  The teachers team included Mr. Hanson, Mr. Zinkiewich, Mr. Guzzetta, Mr. Luynat, Mr. Schneider, Mr. Mueller, Mr. Frechette, Mr. Gentile, Mr. Gerhardt, Mr. Demarte, Mr. Buckner, Mr. Scheers, Mr. Deserto and Mr. Bodentsteiner.