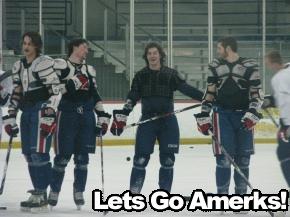 The Amerks finished morning practice today with a game of what I guess could be called, strip shootout.  Before each player could leave the ice they had to score a on a shootout against Adam Dennis.  Each time the player missed they had to take off a piece of gear.  The last player to score was Mike Funk (who returned after nursing a shoulder injury), he was basically down to his jock strap (video will be uploaded later).
Franklin MacDonald, Mike Weber, and Dylan Hunter rounded out the last four players to score on Adam Dennis.
It doesn't seem like defenseman Henrik Tallinder of the Sabres has to worry any time soon about Mike Funk being called up to take his recent promotion to the shootout.
Mark Mancari on having a fun practice, "we've tried serious and look where it got us."
Unless the Sabres or Panthers make some big deals before the trade deadlines, we can't really expect any reinforcements (leadership, scoring, or toughness), so the players are going to just keep playing the same hockey they've played all season.
Kenndal McArdle was missing from practice, he suffered a leg injury on Wednesday against the Crunch.  No info on if he'll be playing this weekend.
Tyler Plante also wasn't at practice, no further info available.
And, happy birthday Adam Dennis!
The Amerks play on Saturday against the San Antonio Rampage who have a record of 28-14-7, while the Amerks are 13-32-7.
Game time tomorrow is at 2:05pm.  The game will be broadcast live on TWSN Ch 26, 1280 WHTK, and B2 Networks.  The first 3,000 fans get a free gift from Perry's Ice Cream, the first 6,000 will get thunderstick noise makers.
The Amerks play again on Sunday at 6:05 against the Grand Rapids Griffins.