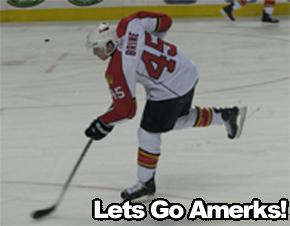 At the beginning of the season, I had originally bought tickets to last night's Panthers' game because I thought it would be fun to see an "Amerks vs. Amerks" game.  As it turns out, I got a lot more than I had bargained for.
With 9:56 left in the third period, Clarke MacArthur checked Olli Jokinen into the corner.  His leg came up hitting Richard Zednik in the neck with his skate.  Zednik immediately fell to the ice holding his neck with a huge splatter of blood following him down.
Somehow he had enough in him to get to the bench where a doctor and teammate Jassen Cullimore got him to the locker room where Dr Leslie Bisson was able to stop the bleeding to get him transported to a local Buffalo hospital.
Zednik had surgery there and is now in stable condition.
The Panthers' bench was despondent.  Teammates had tears in theirs eyes as they waited to find out what was going to be the outcome of the incident.  The last 9:56 of the game were a waste.  Both teams were just going through the motions.
Although the Sabres' scored again…it didn't matter, the game was over at 10:04 of the third period.  And that is really when it should have ended.
One good thing to come from the game last night was Patrick Kaleta's first career NHL goal.  It's too bad that night will always be overshadowed for him by a horrific accident which thankfully wasn't any worse.
I of course hope for a more than speedy recovery for Richard Zednik.