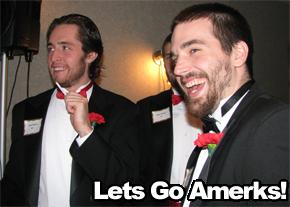 Last night was the Rochester Americans' 18th annual Amerks' Celebrity Dinner to benefit the CF Foundation of Rochester.
The dinner was a great way for fans to get to know the players and make them do crazy things for tips.  Each table had an Amerk waiter whose job it was to do whatever the guests wanted to try to raise as much money possible for the event.
My waiter was Mike Funk.  Our table was pretty relaxed so, he didn't have to do anything too crazy but there were plenty of guys who had to dress up for their tables.  Jordan Henry at one point had on fairy wings and bunny ears.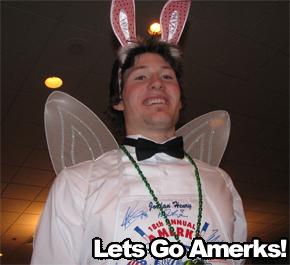 I was talking to some of the guys about their years in Juniors and they had some great stories about playing against Crosby and other greats.  A few of them agreed that the toughest person they played against in Juniors was Anthony Stewart.
All the players made bears at Build-A-Bear Workshop that were auctioned off along with other AHL and NHL memorabilia.  There were signed pictures of every player you could buy among many other things.
Kyle Schuhart did a fantastic job MCing the night and helping with the fundraising.  He is a very strong and great kid who has a good head on his shoulders.  He is 13 years-old and has to deal with CF on a daily basis.
Overall, the dinner was a success and a great time.  All the money raised will be used to fund research ways to control and cure Cystic Fibrosis.  A cause that is very dear to many people's hearts in the Rochester area.