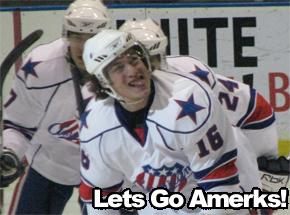 The Rochester Americans beat the Hershey Bears by the final score of 4-2, three of those goals came in the second period.  The Amerks are now on a three game winning streak heading into Saturdays game against the Crunch.
The Amerk goals were scored (in order) by Yannick Tifu, Dan Collins, Marek Zagrapan (PP), and Anthony Stewart.  Adam Dennis was in net and recorded 29 saves.
A strong second period (which hasn't been typical this season) and Zagrapans five on three power play goal allowed the team to take a commanding 4-1 lead into the third period.
With the win the Amerks climbed out of the basement of the AHL and are no longer in last place in the league.  They are two points ahead of the Lowell Devils.
It appears as if the team has found a way to play hockey again (and I'm probably jinxing it), let's just hope they found some much needed toughness to bring to Syracuse on Saturday.
Mike Weber did not play as he was suspended earlier on Friday for two games.
Stefan Meyer was returned to the Amerks from the Panthers, he did not play due to a deep cut on his thumb.
The Amerks are on the road on Saturday to play against the Syracuse Crunch (live on TWSN Ch 26) at 7:30pm.  They return home on Sunday to face off against the Hamilton Bulldogs at 6:05pm.