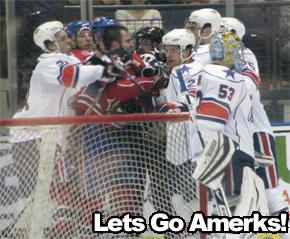 The Rochester Americans lost at home on Sunday night against the Hamilton Bulldogs by a final score of 4-1.  It was the Amerks third game in three nights.
Coming off of a two game suspension, Mike Weber made his presence on the team known tonight…but, not in the way the team would have liked.  Weber took three penalties throughout the game, two of them resulting in Bulldogs' goals.  Undisciplined elbowing and cross checking penalties kept him in the box for four minutes, while a holding call rounded out his night in the box.
Mikhail Grabovski of the Bulldogs had four points tonight against the Amerks with a goal and three assists.  In his last three games, Grabovski has five goals, five assists, 10 points, a plus-3 rating and has been named first star in all three games.
The Bulldogs took the lead at 7:23 of the first period when Weber's first penalty gave Marvin Degon the chance to get one past Dennis with assists from Grabovski and Corso.
There was a great chance for Stefan Meyer to tie it up near the end of the first period, unfortunately he hit the post and was unable to get a second shot on Halak.  This wasn't the only time Halak would foil the Amerks in this game.
Only 1:39 into the second period, Dylan Hunter got his 11th goal of the season on a tip in from a great Peter Aston shot.  The game then stayed tied up until Grabovski scored at 15:22 to give the 'Dogs the lead again.
Shortly after the Bulldogs took the lead for the second time tonight, Mike Weber decided to once again make the penalty box his home and got a holding call at 19:13.  Seconds later (19:55), Eric Manlow got the best of Adam Dennis to make it 3-1.
During the third period, the Amerks were back to where they are used to…playing catch-up.  They could just never get there.  The Bulldogs put the icing on the cake when Duncan Milroy got the empty net goal 17:52.
Adam Dennis was in goal for the third straight night for the Americans which seems a bit ridiculous to me.  He played well in the game, but three games in three nights is not usually something one goalie can handle on his own.
The Amerks out shot the Bulldogs 34 to 22, perhaps a fresh goaltender would have been in the Amerks' favor.
The Amerks next game is on Wednesday at home against the Albany River Rats, game time is at 7:05.