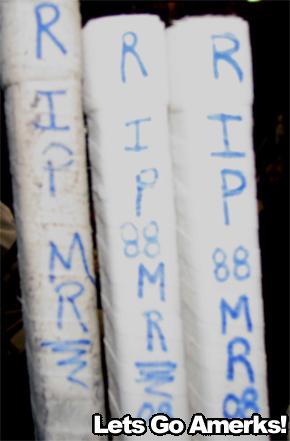 Adam Dennis lead the Amerks to a 2-1 over time victory tonight against the Albany River Rats with 39 saves, 33 of those coming in the first two periods.  In over time Franklin MacDonald received a pass from Stefan Meyer and took a shot from the point, Anthony Stewart scored the game winner off of the rebound.
The Rats took an early 1-0 lead when Jerome Samson was able to trickle a puck over the right shoulder of Adam Dennis on the power play.  Martin Lojek had been put in the penalty box on a weak holding penalty called by questionable referee Chris Ciamaga.
The Rats had seven power play opportunities but were only able to capitalize on one.
Marc-Andre Gragnani is quickly solidifying himself as Amerks rookie of the year after a rough start; he scored his seventh goal of the season at 8:27 of the second period to tie the game at 1-1.  He scored off of a perfect pass from Andrej Sekera.  This was the eight consecutive game in which he has tallied a point (three goals and 6 assists).
Dear Cunneyworth, keep Gragnani on offense, don't ever let him play defense ever again – and make sure to tell his agent the same thing.
Anthony Stewart scored the game winner (11th goal of the season) at 1:30 into over time with assists from Franklin MacDonald and Stefan Meyer.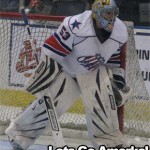 The #1 star of the game was definitely Adam Dennis.  It was his eighth straight start and 14th win of the season.  The only goal he allowed tonight barely trickled over his shoulder, other than that if it wasn't for his play the Rats would've put the game away early in the second period.
Mike Funk also deserves mention for throwing his long legs all over the ice keeping shots from getting through on Adam Dennis.  Ever since he has returned from an injury and cut his hair his game has improved.
After the second period I had looked up at the shots board where it read 34-10 in favor of the River Rats, I couldn't believe it was only a 1-1 game.  This is a different Amerks team that has emerged as of late and is not giving up throughout a game.
Rather than talk about a losing streak we can now talk about success as they've tallied at least a point in eight of the previous 11 games.  They've managed to accomplish this as six players who had been a big part of the lineup earlier in the season have been playing with the Panthers and Sabres.  Those players being Clarke MacArthur, Patrick Kaletta, Tanner Glass, David Brine, Rob Globke, and Drew Larman.
Two big things that can be attributed to the recent success is the improved play of Adam Dennis, as well as a group of guys who've seemed to come together as a team and play 60 minutes of hockey.  It's too bad this didn't start happening in early December.
The picture at the top of the article is of sticks belonging to Mike Weber, the writing on the sticks was in memory of his friend of Mickey Renaud who passed away this week at the age of 19, they were great friends in junior hockey.  There was a moment of silence at the start of the game in memory of Mickey.
"He was like a little brother to me," said Weber (in Wednesdays D&C).
Mark Renaud (Mickey's dad) was a teammate of Amerks coach Randy Cunneyworth for two seasons in Rochester (1983-84 and '84-85).
The Amerks are back at home on Friday night at 7:35 as they face off against the Binghamton Senators, the Amerks have lost all four games this season against the Senators.
It may be worth your time to return to an Amerks game if you've stayed away because of there play during December and January.