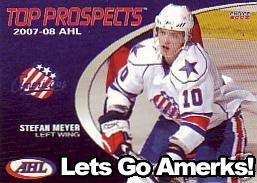 The company that usually makes the cards for team sets "goofed," now it's too late to have them made, so there won't be a set of Amerks hockey cards this season.  The Amerks and Recognition Experts had all intentions of getting a set out this year, appears as though this is outside of there control.
The only two Amerks to have AHL cards this season are Stefan Meyer and Marek Zagrapan, they are featured in this seasons 2007-08 AHL Top Prospects Trading Card Set.
Other cards do exist in NHL sets featuring: Stefan Meyer, Mark Mancari, Marek Zagrapan, Martin Lojek, Drew Larman, and Rob Globke.
I think I have everyone covered, if I left anyone out leave a comment and I'll update the list!
Easiest place to find any of these cards is on eBay, or the AHL store.