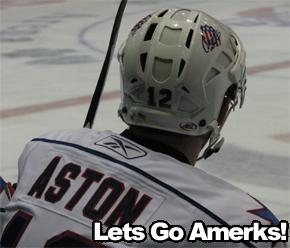 Peter Aston
Defense
02/24/1986
6'1" (185.42 cm)
205 lbs
Toronto, Ontario
Peter Aston is a defenseman who has really come into his own this season with the Rochester Americans.  If the Amerks end up signing a long term affiliation deal with the Florida Panthers, you can bet that Peter Aston is going to play a very important role in the coming seasons before he makes his way to the NHL.
In Aston's first year in the OHL he saw pretty limited playing time.  He played in 36 games with the Peterborough Petes where he got two goals and three assists and spent 17 minutes in the penalty box.
His second year in Peterborough was much more significant.  He played in 52 games in the 2004-05 season.  He didn't score any goals but he recorded 15 assists and had a +/- of +7.  He played in all 14 playoff games for the Petes that year where he had 4 assists.
In the 2005-06 season in the OHL he split his time between two teams.  He once again started his season with the Petes.  He had 19 points in 16 games there (4 goals, 15 assists).  Aston was then traded to the Windsor Spitfires where he played in another 49 games.  There he added another 33 points to his season total with 12 goals and 21 assists.  He also recorded 2 goals and 1 assists in the Spitfires' playoff run that season.
Aston got his shot in the OHL all-star game in the 2005-06 season as well.  He recorded one assist during the game and had one penalty.
Although Peter was eligible to be drafted in the 2004 draft, he wasn't acquired by the Florida Panthers until 2006 when he was picked in the 6th round (155th overall).
During the 2006-07 season, Peter traveled overseas for the beginning of the season, playing 21 in the FNL for the Assat Pori.  There he had 2 goals and 1 assists.  He also recorded 14 penalty minutes.
Aston then returned to the OHL.  He played for the Oshawa Generals for the remaining 41 games of the season.  He recorded his best stats to date in the OHL in that stint with 8 goals and 24 assists.
This season, Peter has been making strides at becoming a very important defenseman.  You will never find him slacking on the ice and you can see his determination shining through in everything he does.  He has played in 49 games this season with the Amerks with a recorded 11 points so far (2 goals, 9 assists).
On February 22, Peter dropped the gloves with known tough guy Danny Bois in a rough game against the Binghamton Senators.  In the fight, he was thrown to the ice.  He left the game with a nasty gash on his head and possible concussion.  He hasn't played since that fight.  Hopefully, he will be able to return to the lineup very soon.
Getting To Know Peter Aston:
LetGoAmerks.com: How old were you when you started playing hockey?
Peter Aston: Five years-old.
LGA: Who got you into playing hockey?
PA: My dad.
LGA: Any Siblings?
PA:  Two older sisters.
LGA: What is your favorite hockey moment you were involved in?
PA: The two NHL exhibition games I played this year.
LGA: What was your most memorable goal?
PA: When I was traded to Windsor from the Peterborough Petes we played against the Petes and I scored the goal to take the game into overtime.
LGA: Who is your favorite person to room with on the road? Why?
PA: Mike Funk because we get along well.
LGA: When you have free time, what do you like to do?
PA:  I like to play guitar and eat.
LGA: What do you do during the off-season?
PA: I like to golf, go out with my friends and visit cottages.
LGA: Favorite movie?
PA: Dodgeball because it has a lot of good quotes