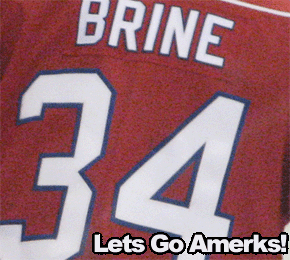 David Brine scored the game winning goal in overtime as the Rochester Americans beat the Lake Erie Monsters 5-4.  The Amerks took an early 2-0 lead in the first period only to allow the Monsters to score four unanswered goals in the second.
A come back victory on the road, feels strange to write that.
Marc-Andre Gragnani and Rob Globkey scored goals in the first period to give the Amerks the early lead.
The Amerks were joined by forward Tommy Goebel and defenseman Johann Kroll, both from Ohio State University who signed amateur tryout contracts with the team.
They joined former Brown University defenseman Paul Baier, who joined the Amerks on Wednesday.
The additions paid off as Tommy Goebel started the come back when he scored his first AHL goal to make it a 4-3 game in the second period, he also tallied an assist on David Brines game winning overtime goal.
Tanner Glass tied the game at four with assists from Jordan Henry and the other new comer Paul Baier.
The Amerks also staged a come back last Saturday in Binghamton when they were down 3-1 and forced that game into OT as well.
The Amerks are back on home ice Friday night when they play the Grand Rapids Griffins at 7:35pm, there first home game since March 2nd.  They then travel on the road to Binghamton again on Saturday against the Senators.