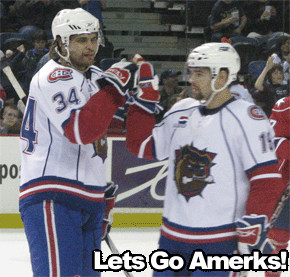 After building a 4-1 lead shortly into the second period, the Amerks allowed the Hamilton Bulldogs to score seven more goals and win the game 8-4.
At the end of the first period as I got up to walk around Copps Coliseum I said, "I won't get my hopes up especially heading into the second period."  I was right.
The Amerks controlled the game in the first period by building a 3-1 lead with goals from Jordan Henry, Stefan Meyer, and Martin Lojek.
Clarke MacArthur scored the fourth goal for the Amerks on the power play to give them a 4-1 lead, it was all downhill from there.
The real point of no return came in the third period when it was a 5-4 game in favor of the Bulldogs.  Anthony Stewart had the puck at the top of the face off circle and faked a shot, two Bulldog players went to the ice to try and block it, Stewart then rang the puck off of the post.
The Bulldogs then scored another three goals to end the game, one of those was an empty net goal.
As usual the team played a solid first period, second period started decent, but the rest of the game was pointless.  The same thing that's been mentioned time and time again.  The end of the season can't come soon enough.
Mike Weber played in his first game back with the Amerks after finishing out the Sabres season on there roster.  Even though he pretty much solidified himself a spot on the Sabres roster next season, he played a great game and didn't seem to act as if he was too good for the AHL like some players seem to do upon returning.
Dylan Hunter left the game during the second period with a shoulder injury and didn't return.
Stefan Meyer also banged up his shoulder in the second period when Pavel Valentenko slammed him into the boards, Valentenko was given a boarding penalty on that call.  Meyer did finish the game.
Patrick Kaleta was not in the lineup, neither was Derek Whitmore.
The Amerks have allowed 18 goals in the last two games, they've scored seven.  They're also on another four game losing streak, after coming off of a three game winning streak.
The team heads into the final weekend of the season on Friday at home against the Syracuse Crunch.  We can only pray for a different outcome than on Sunday night.  During the game the Amerks will wear special Camo jerseys for Military Night. The jerseys will be auctioned off at the end of the night with all the proceeds to go to Foodlink.