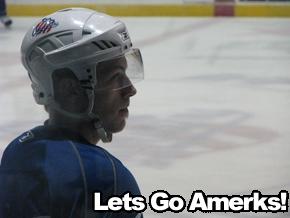 The Amerks had there usual morning skate today at Blue Cross Arena, one player that stuck out was a face on the ice that hasn't been seen since January 5th, Mike Card.  Unfortunately he won't be playing in any of these final three games, but he looked great practicing in full gear with the team.
Tyler Plante is going to get his chance to redeem himself by starting again tonight against the Syracuse Crunch.  Cunneyworth was telling him to not let the other team control or see his emotions.
The team was being told to go into the opposing end hard and continue to shoot the puck each and every time.  "You're here to play hockey and play hard, if you're not here for that get the __ off the ice," said Cunneyworth.
Stefan Meyer did not practice and won't be playing tonight.  He suffered a shoulder injury on Wednesday when Pavel Valentenko boarded him in the second period.
Dylan Hunter also didn't practice, he had left Wednesdays game in the second period with a shoulder injury as well.
Rob Globke was also on the ice today for the Amerks.  Hopefully, he will be back in the lineup for tonight's matchup.
Florida Panther director of player development Duane Sutter is in town for tonights game and was also at practice.  The Panthers announced that he is stepping aside as head coach.  Speculation is that Cunneyworth may be a candidate for the head coaching job in Florida.  We can expect Panther players to be giving it there all tonight with the boss looking on.
Game time is at 7:35pm, it's also the last Friday night frenzy.  Feel the excitement!