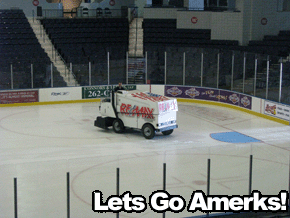 The ice was being removed from Blue Cross Arena this morning after the Rochester Americans closed out the 07/08 season with a 6-5 victory over the Lake Erie Monsters on Sunday night at Blue Cross Arena.
Mark Mancari scored two goals and also got an assist, he led the team this season with 57 points.  His two goals also tied Stefan Meyer with 21 to end the season.
Paul Baier scored his first professional goal in the second period.
Jordan Henry, Brady Calla, and Marek Zagrapan also tallied goals.
The Amerks also allowed a short handed goal, yet another category they led the league in this year.
In the coming days and weeks we'll recap the season, and talk about the future.  It appears all but final that the Florida Panthers will be the sole affiliate next season.  Florida Panthers assistant GM Randy Sexton said the Panthers have every intention to stock the Amerks next season.  Also with speaking with the Buffalo Sabre prospects, none of them expect to be back in Rochester next season.