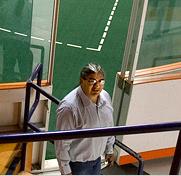 The NY Times ran an article today about the new owner of the Rochester Americans and Rochester Knighthawks titled "Blazing a Trail From a Reservation Into Ownership."  It's a lot of information that's already been covered by local media, but is a nice time line all in one article about how he's grown his businesses and made his money.
Here's the full article:
Blazing a Trail From a Reservation Into Ownership
By MATT HIGGINS
Published: July 16, 2008
OHSWEKEN, Ontario — On a sunny afternoon two weeks ago, Curt Styres sat in the grandstand here at Ohsweken Speedway talking above the roar of a tractor grooming the dirt track. He recalled a night this May when he had been driving the tractor, as he usually does before stock car races.
And how afterward he put on a suit and boarded a flight for Chicago, where he was to be approved as the newest American Hockey League owner. At the meeting, representatives from the minor league's other 28 franchises questioned Styres, the 48-year-old prospective owner of the Rochester Americans. They wanted to know about his finances, what he did for a living and where he came from. The answers to those questions inevitably lead here to Ohsweken, a small, rural town on the 45,000-acre Six Nations of the Grand River Reserve, located about an hour southwest of Toronto.
Styres, a Mohawk, has lived on the reserve his entire life. He built his businesses here. They include the raceway and a partnership in a tobacco company that employs 200 people at its plant in Ohsweken, and more at a second plant near Berlin.
In May, Styres paid $5.5 million to buy a 60 percent controlling share of the Rochester Knighthawks of the National Lacrosse League, and an undisclosed price for the Americans. He says he thinks he is the first individual American Indian — known in Canada as First Nations people — to own a major professional sports franchise. The Mohegan Tribe owns the Connecticut Sun of the W.N.B.A.
"He's one of the truly successful First Nations entrepreneurs in Canada," said Phil Fontaine, national chief of the Assembly of First Nations, an aboriginal advocacy organization representing 630 communities. "It's made it possible for him to give back to his community in a very significant way."
Even as his business empire expands to the United States and Europe, the reserve remains as central to his sense of self as his Mohawk heritage.
"I just look at me as a working man from the bush," said Styres, his gray-streaked pony tail dancing in the wind.
Growing up, he shared a 12-foot by 20-foot former Army barracks that lacked indoor plumbing with his widowed mother and four siblings. His world was not much bigger.
He ventured outside the reserve for youth hockey and lacrosse games, and to find work on nearby farms. He later traveled as an ironworker. What he saw shaped his desire to improve conditions on the reserve.
In 1991, he co-founded Grand River Enterprises, a tobacco operation. Its success led to the Dreamcatcher Fund, which helps First Nations people across Canada pay for education and athletics.
In 2002, Styres bought a stake in the Six Nations Arrows Express, a junior lacrosse team. He built the Iroquois Lacrosse Arena, a 2,600-seat facility in Ohsweken, then hired trainers, nutritionists and tutors for the teenage players.
Two years later, four players from the team were enrolled in college. By 2008, 15 players were enrolled, including Sid Smith, a defenseman for N.C.A.A. champion Syracuse.
"Natives can use lacrosse as a steppingstone to better their future," Styres said. "Once you get an education, you come back and show the people here you can do it."
Styres studied manufacturing machines at Mohawk College, a trade school in nearby Hamilton. But he learned some of his most enduring lessons in the tobacco fields in southern Ontario. Each summer as a child, he planted and harvested alongside his mother.
"They saw me working hard all my life," Vera Styres, 73, said about her five children.
After they were grown, she earned university degrees in Native studies and social work, and became a social worker and teacher. A proud woman, she was moved to tears by memories of more difficult times.
Last month, Canadian Prime Minister Stephen Harper formally apologized in the House of Commons for a former residential school system that forced indigenous children from their homes and placed them in institutions where many were subjected to physical and emotional abuse. Vera Styres, who as a girl was sent to the Mohawk Institute, attributed the apology to newfound economic and political clout among American Indians.
As Styres and her children have prospered, so has their reserve. The population has increased to 11,297 in 2005 from 4,907 in 1972, making it the largest First Nations community in Canada. Curt Styres lives in a colossal 21,000-square-foot stone house with a movie theater and a fitness center.
Still, basic amenities like public water and sewers are not widely available. And non-native businesses have not been attracted to the area even though the reserve is thriving.
Styres believes he is duty-bound to change these things for his people and for his nine children. "When my grandkids grow up, they're going to say, 'Your excuse was what again?' "
The Knighthawks are a more immediate concern. Rochester is the smallest market in the lacrosse league. Styres acknowledged that turning a profit would be a challenge. The former controlling owner, Steve Donner, encountered financial problems and fell out of favor with Rochester city officials.
Styres said he bought the Knighthawks and the Americans, the top farm team for the N.H.L.'s Florida Panthers, because of his love of sport. Photographs of him playing hockey and lacrosse on local teams hang in his office and at the arena.
Fans in Rochester feared the teams would be relocated when Styres appeared. Little was known about him or Grand River Enterprises.
"When word got out that Curt was looking into a team, there was always speculation and perception and innuendos," said Jim Jennings, commissioner of the National Lacrosse League. "We looked into all those aspects and everything was unfounded."
Styres would not discuss finances except to say Grand River Enterprises made seven billion cigarettes in 2007. Although Styres did not disclose the company's income, cartons of its cigarette brands typically sell for $12 to $17 apiece, meaning sales probably totaled hundreds of millions of dollars. Grand River filed a lawsuit against the United States in 2005, claiming the government violated the terms of Nafta in its dealings with the company, which is seeking $310 million to $646 million in damages. The matter is in arbitration.
Regarding questions about his business, Styres said: "I don't care what anybody else thinks. I do what I think is best for our people. How can I help them?"
Styres has taken a similar hands-on approach to improving the Knighthawks. Last week he made a trade with the Edmonton Rush for Troy Bonterre, a bruising 6-foot-3, 260-pound defenseman.
He said he expected the Americans to play a hard-nosed style, too. He has talked to Jacques Martin, Florida's general manager, about adding enforcers to the roster. The approach is based on his experience in running a racetrack.
When Styres and his brother Glenn opened the speedway, they struggled to fill the stands. To lure spectators, they guaranteed at least one rollover on race nights. If there is not one, his brother, a champion driver, rolls his own car.
The recognition that there can be entertainment value in carnage will extend to the Knighthawks and the Americans. Asked what fans can expect next year, Styres said, "Let's just say there will be a lot of rollovers."