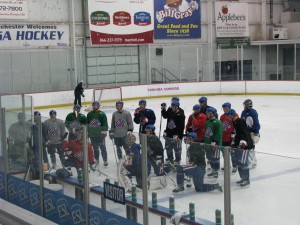 Today the Amerks cut down the roster by ten players.  Most of the players everyone thought were going to be gone but, one stands out as a shocker for a lot of fans…Ryan James Hand.
Hand was the player all the fans wanted to keep around.  He was kind to people and just a general nice guy.  But, more than anything…he was a fighter.  "I'm pretty rattled." Hand said when asked how he is.  "[They told me] this am…I'm ok now."
Last season the Amerks were pushed all over the ice by whoever felt like it because there was no one they would have to go toe to toe with afterwards.  Teams looked at us like we were weak, and they were right.  And now it's starting to look like we won't have that strong authority figure we have all been hoping for.
Maybe the Amerks brass think that Neil Clark will be able to handle the team's problems.  I hate to tell them but, just because he got into two fights in one night (with non-fighting players), doesn't mean he can take care of anything when a real enforcer comes calling.
I don't think it is going to take long for another team to sweep up Ryan Hand.  Let's just hope it isn't the Syracuse Crunch seeing as heavyweight fighter Mike Sgroi will be out of their lineup for two months thanks to a broken hand from his fight with Ryan on Thursday.
The other players cut today: Goaltender David Shantz (Florida Everblades-ECHL), forward Danick Bouchard (Everblades-ECHL), forward Kevin Cooper (Bossier-Shreveport -CHL), forward Ryan Smyth (Dayton-ECHL), forward Tyler Donati (Elmira-ECHL), forward Benoit Doucet (Elmira-ECHL), forward Ryan Davis (Unsigned), forward Mark Johnson (Unsigned), defenseman Dominic D'Amour (Dayton-ECHL).