The Rochester Americans lost tonight to the Syracuse Crunch in a sad 6-1 final score.  This, of course, is better than last year on the Crunch's "Pink Out" night when the Amerks were creamed 9-2.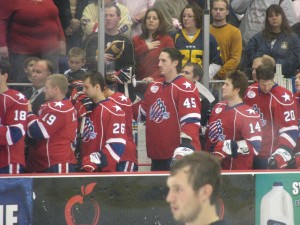 Emmerson made his AHL debut tonight and did a good job.  But, more on that later.
The first period started out with a quick epic fail when Starkov scored for the Crunch only 17 seconds into the game.  That was only the tip of the iceburg that was to come.
The Amerks were on the powerplay when Vigalante went to the box for tripping at 3:18.  That chance was short lived when Ellerby decided to get a penalty of his own at 4:02.  To add insult to injury, Drew Larman took yet another penalty, giving the Crunch a 4 on 3 powerplay.  The outcome of that situation is easy to imagine.  The Crunch (Wilson) scored their second goal of the night easily.
For the next ten minutes we fought off a few more penalty killing problems.  But, it wouldn't last forever.  Wilson tallied his second goal of the night at 14:15 to put another nail in the coffin before the end of the 1st period.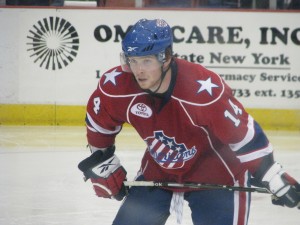 The second period wasn't any better except for one moment.  Before the good, of course, had to come the bad…the Crunch scored their 4th goal of the night only 3:57 into the period (once again on the powerplay).  But, then came something Rochester fans could get on board with.  Mike Duco dropped the mits at center ice with Ryan Garlock.  Duco dropped Garlock with one swift punch to the jaw.  A job well done by the "rat."
Speaking of Rats…only a few minutes later, Mirasty was on the ice with Emmerson and the moment we had all been waiting for began.  Emmerson dropped the gloves and tangled with Mirasty.  He held his own.  He got a few punches on the top of Mirasty's head (seeing as he towers over him by about 25 feet), but Mirasty got a few in on his chin.  Jon then pulled Riley down and wrapped his legs around his back.  Round one over.
We couldn't celebrate much longer, the Amerks went shorthanded once again when Tanner Glass wanted to get a good fight in but couldn't find anyone to drop the gloves with him.  Instead he got a roughing penalty leadig to another powerplay goal by the Crunch.
It wasn't long until Tanner was out of the box and trying to fight with someone else.  Andrey Plekhanov was more than willing to fight but is just an idiot.  He was thrown out of the game for giving Tanner the finger.  Way to be guy.
The second period ended with the Crunch ahead 5-0.  At this point the Amerks' fans in attendance were just hoping not to get shutout.
The third period started and I started to drift off to sleep.  Glass once again tried to take on someone…this time looking to Syracuse's captain Smith.  Smith wouldn't fight him because he has a hand injury so they just both took unsportsmanlike-conduct penalties *yawn*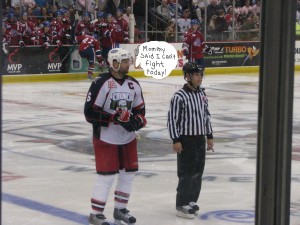 Not long after getting out of the box for not fighting Glass, Smith thought it would be cute to hold on to MacDonald's stick for a while.  Off to the penalty box again for the mighty Crunch captain.  This time, to our advantage.  Thanks for making sure we didn't get shut out Smith.  Karl Stewart scored his 3rd goal of the season on the powerplay.  Assists to Repik and Matthias.
Vigilante (best name in the AHL?  Possibly) thought he would throw the last nail in our coffin when he scored the Crunch's 6th goal of the evening shortly after Stewart made us look less like fools.
Just as I was about to take a cat nap, Emmerson and Mirasty were ready for round two.  Emmerson looked more ready this time, knowing what to expect from "nasty."  He stayed in the fight much longer and got a few good hits in on Mirasty's face.  The fight still went to Mirasty.
I would say Emmerson is going to do just fine for himself in this league.  This was his first game in this league and he had to take on the fighter with the worst reputation.  And he did it twice.  He was more than willing and probably wanted to have one more go at him.  He said "Mirasty is a tough little guy."
I want to see more of Emmerson.
Oh yeah…did I mention Billy Baldwin was at the game tonight?  Cause he was…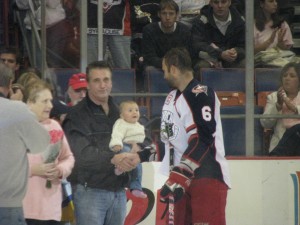 We clearly missed the presence of our best defenseman (Garrison), our veteran defenseman (Fitzpatrick), our fearless leader (Sprukts) and the boy who should be our top goal scorer for the year (Meyer).  I mostly just miss Meyer.
If there are typos in this, please forgive me, I am writing it from my car on the way home.  Goodnight and goodluck.