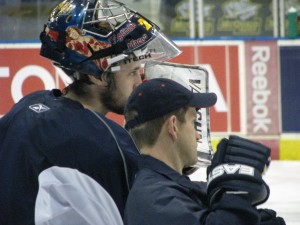 I was hoping to see a really tough practice today after Saturday and Sunday's games (and even Friday's, it wasn't a beautiful win).  And that is exactly what I am seeing.  Coach Benoit is not messing around today…not that he ever messes around.
During the first drill we are here for there are people still not hitting in the corners.  Benoit did not like that.  He called the whole team over to talk about how poorly he felt about that.  It sounded a little something like this. "We are so f***ing soft, so f***ing soft.  I don't want to see you skating up and just putting your stick in there!  You hit your man and take the puck and get it out of there."
They are now beating the bejesus out of each other in the corners.  And that is what I like to see.  Hit, hit, hit.  More hitting.  I want this team to start killing the other teams…literally.  I am sick of watching the other teams dig in the corner like professionals and we go in like pansies.  We will never win a corner battle that way.
There is an awful lot of bad words coming out of Benoit's mouth today and I like it. He is yelling a lot today a well.  Telling them to hold their positions and that they are not just out there to be decoys, they are out there to actively stop the puck from getting to the net (defensemen).
Now Benoit is talking to the forwards about following behind the defensemen behind the net.  That they need to get in front of them to stop the pass.  You can't stop a pass from behind someone.  And he just keep yelling at everyone to keep hitting people.  "You don't let him come inside, you hit him."
Benoit is giving a speech now about how each individual player is responsible for what happens to the puck.  That each person can be blamed for that happens to the play they are trying to do.  If you don't have control of the puck, it's your own fault.
Someone talked while Benoit was talking…that was a mistake.
These guys just can't get it right today.  And Benoit is not going to let them get away with even the smallest mistake anymore.  Not that he was allowing mistakes before this, but now he is mad.  Very very mad.  You would never hear the coaches last year even raise their voices a little.  Now the coaches are crazed.  This losing will not be allowed! "Wake the f*** up!" As Benoit would say.
Now let's get to how individual players are looking:
Mike Duco: He isn't afraid to hit his own teammates hard to dig the puck out of the corner.  I see him as one of the hardest working players on the team…if not the hardest working.  He is always giving 110% of himself at all times.
Jason Garrison: Our strongest defenseman, even during practice.  It's easy to see that we need more defensemen like him.
Kenndal McArdle: Surprisingly vocal on the ice.  He always comes across as such a quiet guy but, when he sees something he likes going on out there during practice he is always yelling to let them know.  He is becoming a real team leader.
Keaton Ellerby: All summer I looked forward to Keaton coming to the Amerks.  But, the more I watch of him, the more I think he should go play with the Everblades.  He has dropped his stick about 23,817 times during today's practice and has given up the puck more times than that.
Dan Collins: Sorry Dan, but you are still not ready for this league.  He seems to screw up every play somehow.  He needs another year in the ECHL…which is really sad because he started off last season so promising.  Then he tanked and it seems that he never recovered.
Injury Update:
There are only six defensemen practicing today.  Along with Jordan Henry (sprained knee) and Rory Fitzpatrick (head), Peter Aston is also out today (sore hip).  Janis Sprukts isn't practicing today either.  He is day-to-day with a "charlie-horse."
The Amerks have two home games this weekend.  Both games are divisional, so they are even more important that usual.  On Friday night, the Amerks take on the Toronto Marlies.  The game starts at 7:35.  It is Halloween so remember to dress up the kids (and yourselves).
On Saturday the Hamilton Bulldogs make their first trip down to Rochester for the season.  The puck drops at 7:35.