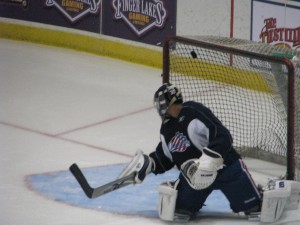 It's another day and another practice here at the ever so clean Blue Cross Arena.  It really is a clean arena, the cleaning crews either do a great job, or when you only have 1,000 people at a 10,000 seat venue it's going to be an easy cleaning job.  Oh yea, the players are on the ice..
Janis Sprukts is finally back on the ice and was with the team the entire practice.
Jordan Henry has been cleared to play.  Towards the end of last season he was throwing bodies all over the ice playing a physical style of defense.  Let's hope he can get on the ice this weekend and stop some pucks.
We have only won one out of ten games and are in last place in the league.  We've been outscored 48-21 in those ten games.  Our goalies are ranked #51 and #52 out of 52 goalies in the league.  The team points leader, Tanner Glass (3G, 3A), is ranked 119th in the league.  I'm not even going to bother looking up where the power play and penalty kill are ranked, what's the point.
Last season around this time the Amerks had a four game winning streak.  The next four games include two against Manitoba Moose, one against defending Calder Cup champs the Chicago Wolves, and one against the Houston Aeros.  The Moose are 8-2.  The Aeros are 6-4.  The Wolves are 7-2.
This weekend it's the Moose Friday, Aeros Saturday, and Moose again on Monday.
The question of the day is, have we hit rock bottom?
I was beginning to think nothing would've been worst than the 07/08 season which was the worst in franchise history.  I don't think anyone could have anticipated this.
Groulx just gathered the players and his exact words were, "thirty three f**king minutes, this is horses**t."
We've talked about looking good during practices, not sure this is one of them.  Not that it matters, having practice champions doesn't win games.  So, I'm distracted writing about rock bottom.
Last season we needed material to write about, it got tiring writing about the same stuff over and over about another loss, another night of about 25 minutes of effort, so we wrote about what was positive.. or at least tried to find things.  We were trying to gain an audience and wanted to have different material.  Last season was different with all of the bickering between the two sides, the law suits, the anticipation of a new owner.
Everyone just wanted it to end and be over with an anticipation of this season.  After all, this season was going to be "A New Day for a Rochester Tradition."
If that new tradition is losing, we are making some progress.
Back to the question, have we hit rock bottom?  Probably not.  You never know when rock bottom is hit until you've turned the ship around and can look back at the situation.  I don't see that in our near future.  We're going to be heading into Christmas time asking Santa for a win again.
This all reminds of me of the recent economic turmoil in the United States.  The President and others said we needed a huge bailout package.  The House and Senate sort of agreed, but wasn't exactly sure how to go about fixing the situation.  This dragged on for a couple of weeks while everyone watched 401k values lose value every minute of the day.
Here in Rochester all of us fans know we need some sort of bailout.  We have a great group of players who are giving a decent effort every game, and trying to win, but just can't compete at the same level of opponents.  Lewis Staats has told us that they're in constant communication with Florida about locating some players.
Again, relating to the economic bailout package, who's going to pay for it and how?  The Florida Panthers recently layed off a number of workers.  We know they aren't drawing the crowds in too well down there.  It seems as if we'd like to see money spent, but they don't seem to have any.
That leaves Curt Styres who bought the team.  He reportedly has money, but he also just purchased this franchise.  If he wants to see a return on his investment sooner rather than later, he's going to need to step in.  Like the "economic crisis," the longer this goes on the more money he's going to lose.
Fans have already begun yelling at the players from the seats.  Fans have already made comments towards Florida Panthers GM Jacques Martin when he was recently at a game.  No one is going to the games already.  Who is going to fix this mess?
Current ownership is getting and deserves a free pass at being blamed at this time.  Unless we were all lied to, everyone was under the impression this year would be different and the Panthers were dedicated to winning and they were going to provide us with the players needed.  So far we have nothing.  It won't be long until that free pass to Amerks ownership is tossed out the window, I'm sure most fans have already done that.
We don't have the real veteran leadership that's supposed to help a team like this get by.  The only thing we can hope for is players from last season like Stefan Meyer, Tanner Glass, Drew Larman, Tyler Plante, Peter Aston, David Brine, and Franklin MacDonald to step up and tell the locker room they need to give 150% every night and win some games.  It's only ten games into the season and the only thing they all have is themselves.  They can't possibly want the season to continue like this.