"What'd you think of the game last night?"  The first thing Benoit says to the team when he gets on the ice.  "Now it's over, behind us…tomorrow, it's different.  Forget about last night, work hard.  Do not think about last night, it's over.  Now we practice hard and work for tomorrow."
Karl Stewart, Janis Sprukts and Andrew Sweetland came out before practice in red "no contact" jerseys.  But, now they are on the ice with the rest of the team, full contact.  Stewart expects to be in next Wednesday's game against in Toronto.  Sprukts may be back tomorrow night against the Manchester Monarchs.
I have been awaiting the return of Karl Stewart ever since he was injured.  He is a great forward to have on this team (or any team for that matter).
My good friend Jack Birch just walked in.  I'm sure he is very excited to see Keith and I after last night.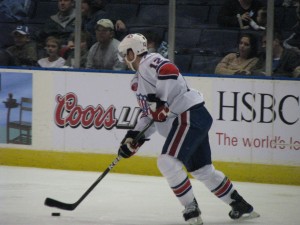 I hope they replace Jordan Henry with Peter Aston for tomorrow's game.  Henry has become pretty embarrassing to watch in the past few games.  He is constantly in the box, and when he isn't, he is scoring goals for the opposing team.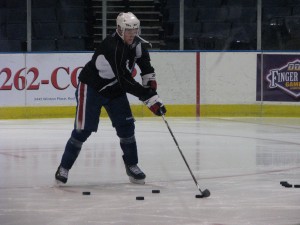 If he can go back to being the Jordan of old, I would want him on the ice in a heartbeat.  His hard checks and smart play used to be something to look forward to.  But, he needs a timeout.  Give Aston a chance now.
Another player I want to see in tomorrow is David Shantz.  Beckford-Tseu needs a rest after last night.  Shantz played extreemly well on Sunday afternoon, and he really should have been in last night.  So, he better be in tomorrow.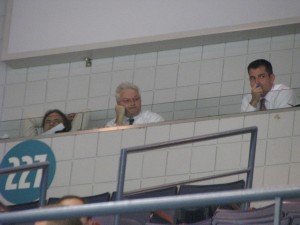 Jack Birch is available after practice for the media.  I'm sure he will be more than happy to see us in there questioning him.  I doubt anyone else but the RNews guy that is here will be there with us.  So, he has no choice but to listen to what we have to say.