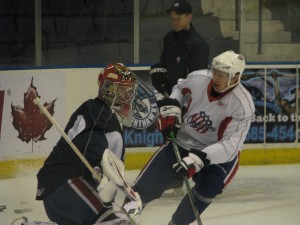 The Peoria Rivermen are in town today to play the Amerks at Blue Cross Arena, game time is 7:35pm.  The Amerks are 3-3-1 in their past seven games making for the best stretch of the season so far.  They've already tallied more points and wins this December compared to last years dreadful month.  Tonight will mark the teams third game in four nights with games on Saturday (in Cleveland against Lake Erie) and Sunday (home against Syracuse Crunch).
The Rivermen will be just as tired, they are on a similar four games in a five night stretch and also on a hot streak as well.  They are 4-1 in their past five following a win in Hamilton last night.
Mike Brodeur will be getting the start again tonight for his fourth consecutive start.  He is 2-1 with a 1.31 goals-against average and .953 save percentage.
With Tanner Glass on recall to the Panthers, Michael Caruso was named the teams alternate captain in Texas.  Caruso has played in all 25 games so far this season and only has one goal and one assist.
"Michael has been one of our top defensemen the last seven or eight games," Groulx said. "He reads the play well and he plays with composure."  (source: Democrat and Chronicle)
Two other players currently on a hot streak are Stefan Meyer who has netted a goal in two of his last three games (2-1-3), and Janis Sprukts shows a point in four of his last five games (4-2-6).
Noah Welch is still in town for his conditioning stint and expects to be through the end of the weekend.  Welch being on the ice has really impacted the defensemen on the team.  He does different drills with them to keep them on their toes and hone their skills.  They are shooting cleaner and harder.  Today they played a "game" where Noah offered to pay the winner $5.  He was the winner with Franklin MacDonald close behind…I guess he doesn't have to pay anyone anything.
The Panthers still have five players on the injured list which means the Amerks will again be without the services of Tanner Glass, Michal Repik, and Shawn Matthias.  A few of the injured Panthers could return to play tonight so we may see Repik and Glass back by Sunday.
Greg Classen is still on the ice working with goaltenders David Shantz and Chris Beckford-Tseu.  Because Greg Classen went home to Regina, SK and wasn't working in the United States, he has to get a work permit again and be cleared to play here.  That is the hold up on his playing…immigration.  He should just not get paid, then we don't have to worry about work permits.  So, he will not be playing tonight.  Fun fact: Rory Fitzpatrick played a few games with him with the Milwaukee Admirals.
Janis Sprukts took the morning practice off.  He usually does on gamedays, so it is nothing unusual.  He said it's just to get a little rest, but Rory Fitzpatrick said it's because he is "grumpy and old."  It just seems to be a part of his pre-game routine.  He never practices on gameday, but he certainly has been coming out more than prepared to play.
Tonight's game starts at 7:35 and is the 12 Days Of Christmas giveaway night.  Don't miss the fun.  The Amerks are on their hottest streak of the season, no one knows when it will end.