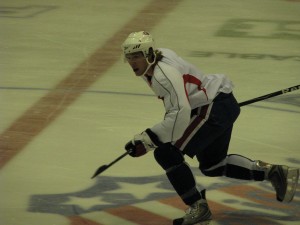 After a well-deserved two day break, the Amerks are back on the ice today with a few additions.  Shawn Matthias and Michal Repik are back from their call-ups to the Florida Panthers.  They had great chemistry when playing together in Florida, I would like to see that transfer to the AHL.
One major piece missing from the puzzle today is Noah Welch who went back to Florida after the game on Sunday night.  His conditioning stint in Rochester is over and we will miss him.  Rory Fitzpatrick is also not skating.  As earlier reported, he is out after having a surgery to repair his meniscus.  He is, however, up and walking around.  And it was said that he should return for Christmas.
It's interesting to watch the players shoot on both Mike Brodeur and Chris Beckford-Tseu.  Brodeur doesn't let anything in, even during practice.  He looks like he has belonged here in Rochester his whole life.  Beckford-Tseu is looking…well, like Beckford Tseu.  He stops some good ones, he lets some in.  Hopefully, having a real number one goaltender will help Chris get better.
Mike said that he is actively seeking a contract here in Rochester.  He wants to get it out of the way so he doesn't have to worry about what is going to happen to him after the PTO is over.
In case you're wondering why Riley Emmerson didn't fight Jon Mirasty during Sunday's game.  Last night at the library, Riley told us that he wanted to fight Mirasty really bad but, he couldn't give the Crunch the spark they needed to get back into the game.  Which is what I said on Sunday when everyone was yelling for him to fight.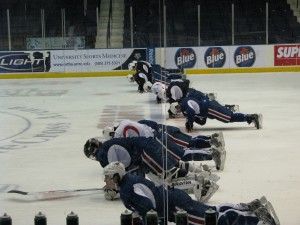 Well, the guys didn't seem like they wanted to practice hard today…so, it was time for them to do sprints and pushups at center ice.  After that, they are working hard again.  Having two days off hasn't gotten them very mentally prepared for this week's practices and games.  Once asked if they want to practice for 40 more minutes or just skate for 40 minutes, they got back to business.
Repik and Matthias just came up the wings on Broduer, beautiful pass by Shawn to Repik for the goal.  Even the seemingly impenetrable Mike Broduer couldn't get a hand on that one.  I really want to see these two on a mine together on Friday night.  They really had things going in Florida.  They were constantly on good drives when they were on the ice, they are both quick and they both have a great sense when it comes to what is going on on the ice.
Keaton Ellerby looks like a shell of his usual self.  He is slow, sweating a lot more than usual.  He really just looks like death on skates.  Looks like all his two days off gave him was the flu.  Get well soon Keaton, we need you on the ice healthy on Friday.
As usual, Jason Garrison is the last person on the ice working.  He always stays as long as the team will allow him to work on whatever he feels he needs to.
The Amerks next game is on Friday against the Lake Erie Monsters.  Puck drops at 7:35 pm.