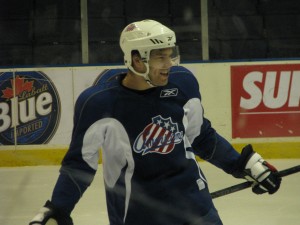 Tonight, the Rochester Americans take on the Hamilton Bulldogs at the Blue Cross Arena.  The game starts at 7:35PM and should have a pretty good size crowd as the post Christmas game usually does.  Mike Broduer should be starting in goal tonight even after he slipped up during Sunday night's game.
Stefan Meyer should be will likely be back on the ice (as he should have been in Sunday night).  Drew Larman and Randel Gelech should be scratched if you are scratching players based on who is producing the worst on the team.
Rory Fitzpatrick still isn't practicing, but he is here working out.  He is currently out here on the bench with the team watching them work.  Remember that Rory should be returning on the team's trip out to Manitoba.
Don't miss tonight's game.  It may be the loudest one of the year with a crowd expected of close to 8,000.