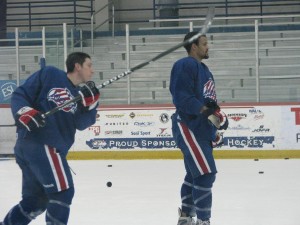 It was a cold morning at the ESL Sports Centre in Henrietta for practice this morning.. amazing how much I've taken it for granted sitting in warm comfortable seats at Blue Cross Arena instead of metal benches.
Practice was practice, what else can really be said about the team going through the motions and drills.  Worth noting though was Kenndal McArdle and David Brine hanging out late practicing shooting the puck at various spots of the net.  The Amerks are at the bottom of the AHL with only 66 goals scored this season, which is also a reason they're in last place.  If you can't score, you can't win.
Shawn Matthias and Jason Garrison were the last two players to leave the ice as they worked with Jason Cipolla.  It's an understatement to say that Matthias needs the practice.  In 24 games he only has 3 goals and 1 assist.  He also has a team worst  +/- rating of -21.
Mike Brodeur, the one player who has put new life in the team, still has no update on any sort of contract offer.  He's on a 25 game PTO and has played in 10 games so far.  I asked him for any sort of update and he said, "I wish, I want to start making some more money."
Rory Fitzpatrick is back on the ice prior to the rest of the team.  He has been hoping to be back in the lineup in this weekend.
Riley Emmerson attempted to skate for a minute, but lasted about 45 seconds.  He's been out of the lineup nursing a sprained ankle.
Mike Duco left the game on Sunday in Hamilton after Greg Stewart nailed him into the boards, Steward was called for boarding major and game misconduct.  No idea what the nature the injury is, but he wasn't practicing either.  Cipolla said they'd find out today.
Last but not least it appeared as if the flu bug that pestered the team over the weekend is gone.  Everyone seemed healthy, hopefully it stays that way as they'll need everything ounce of energy when they travel to Manitoba for back to back games on Friday and Saturday.