It's night number two of the AHL All-Star Classic event and time for the actual game.  Mike Brodeur of the Rochester Americans is getting the start in goal for Team Canada.  Brian Elliott of the Binghamton Senators was slated to get the start but when the Ottawa Senators called him up the starting position shifted to Brodeur.
Mike Brodeur said, "someone must have just flipped a coin or something," regarding him getting the starting job.  Mike is very humble and unsure of himself in the role that he has earned.  The most exciting part of being the starter for Brodeur isn't about the honor that goes with it, but rather not having to sit on the bench for two hours prior to being able to play.
The game is being broadcast to over 100 million people, and tonight the world gets to see the player that has turned the season around for the Rochester Americans.  All-Star games are all about offense, so he's going to be put to the test early.  When we talked about the lack of defense and him really being put to the test some of the defensemen in the locker room started laughing.
The theme of the Hockey Hall of Fame/AHL All-Star Classic Luncheon this afternoon from past players was for all the guys to have fun and that once you make it to the NHL your friends for life will be guys that you met in the American Hockey League.  Too many guys are so concerned about making it to the NHL that they forget about building a career, the AHL isn't a bad place to better yourself.
They were words that some of our players in Rochester should get to hear.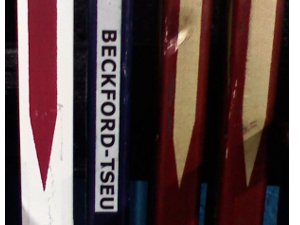 In a very suprising turn of events, Chris Beckford-Tseu of the Rochester Americans IS represented here at the All-Star Classic.  We have not seen him in person but his stick is in the lineup, as seen in the picture.  We'll have to find out later who is using it, or how it ended up here.
The fans of the hometown Worcester Sharks will be on their feet for Derek Joslin playing for Team Canada and Ryan Vesce playing for Planet USA.  Regardless of the turnout of the actual game, the home town will have a winning player.
The NHL All-Star game on Saturday night had a combined 22 goals scored in regulation, the record for most goals in an AHL All-Star game is 24 back in 2002.  The record for the fewest was four goals back in the 1956-1957 season, I don't think that will ever happen again.
Memo to Curt Styres and Lewis Staats – the 75th Anniversary of the AHL All-Star game is coming up in a few years.  President and CEO of The AHL Dave Andrews said that they'd like to have the game in a city that's been around for a while.
About time for lengthy introductions, national anthems, and finally a game that is probably much more exciting in person.  Keep us book marked and continue to refresh throughout the night!
Starting lineup for Planet USA: Cory Schneider (Manitoba – G), Yannick Weber (Hamilton – D), Jakub Kindl (Grand Rapids – D), Ryan Vesce (Worcester – F), Chris Bourque (Hershey – D), Martins Karsums (Providence – F).
Starting lineup for Team Canada: Mike Brodeur (Rochester – G), Johnny Boychuk (Providence – D), Derek Joslin (Worcester – D), Mike Santorelli (Milwaukee – F), Alexandre Giroux (Hershey – F), Chris Minard (W-B/Scranton – F)
Corey Locke scores  the first goal of the game off of a cross ice pass from Teddy Purcell.
Brodeur just allowed his first goal after a fleury in front of the net and the puck bouncing all over the place.  Martins Karsums was able to finally whack the puck to the back of the net.  Besides that goal Brodeur has already made a few chest saves.  He didn't perform too well in the skills competition, that seems to be a different story tonight.
Team Canada actually seems to be playing some defense!  Maybe my comment in the locker room hurt their feelings, so they decided to step it up a notch.
Ryan Vesce scores the second goal of the game for Planet USA beating Brodeur glove side.  He was standing all alone untouched by Danny Syvret on defense for Team Canada.  Mike had no chance.
Excellent save by Schneider going across the ice stopping Teddy Purcell.  That'll make the highlight reel.  Schneider set an AHL record making 18 stops on 19 shots to earn the Reebok Top Goaltender award at the skills competition.
Brodeur with the absolutely amazing stick save on Chris Bourque, that puck should have gone in but Mike put his stick down and stopped him cold.  That was even more impressive than Schneiders save minutes ago.
Alexandre Giroux beat Jakub Kindl crossing in front of the net to beat score glove side.  An excellent example of All-Star defense, but goals like that make the game exciting.Blocker save on Ryan vesce
Rory Fitzpatrick with the nice pass to Ryan Vesce, but Brodeurs glove was waiting for the puck.  Vesce has 15 goals and 33 assists for the Worcester Sharks this season.
Another excellent save on Ryan Vesce who was all alone with a breakway, went with the back hand and Brodeur stopped him.  Vesce seems determined to get a goal in front of hometown fans but Brodeur isn't going to allow it.
Team Canada ties the game at 2-2.. Brett Palin took a shot, Schneider wasnt able to hold on and as the puck lay in the crease Brett MacLean easily tapped it in the net.
End of the first period!  Mike Brodeur was fantastic and was able to show why he is an All-Star with some excellent saves.
Second period underway with Barry Brust (Houston) in goal for Canada and Daniel Larsson (Grand Rapids) in goal for Planet USA.
Teddy Purcell drew Larsson far out of the net leaving it wide open on the opposite side for Corey Locke to put the puck in to put Canada ahead 4-2.
Bryan Helmer gives Canada a 5-2 advantage after putting the puck through Larssons five hole.
Michael Ryan scores to pull Planet USA within two goals.  Ryan is still trying to prove that he's worthy of playing in the NHL.  He's not letting up one bit as he continues to score this season.  He has 23 goals in 36 games played this season, good enough for fourth in the league in goals scored.
Planet USA leads the game so far with 24 shots on goal versus 22 for Canada.  Here's some stats from the record books:
Most Shots, Both Teams, One Game
112 Canadian (58), PlanetUSA (54), 2002 at St. John's
Fewest Shots, Both Teams, One Game
52 Hershey (28), AHL All-Stars (24), 1954-55 at Hershey
Most Shots, One Team, One Game
60 PlanetUSA, 1998 at Syracuse
Fewest Shots, One Team, One Game
24 AHL All-Stars, 1958-59 at Hershey
This is only the second time I've ever sat in the press box for a professional sporting event.  One of the things I always wondered about was who and how shots on goal were tallied.  It's pretty simple.. off ice officials sit together watching plays, as someone shoots the puck they yell out the number and whether it counts as a shot.. they'll either yell shot or miss while yelling out the number of the player that shot the puck.  Pretty simple, but exciting to see happen.
Chris Borque stonewalled yet again, this time by Barry Brust in goal for Canada.
Mike Santorelli had a clear shot to beat Larsson high on the stick side but he clanked it off the post.
Michael Ryan gets his second goal of the game unassisted through the five hole of Barry Brust.  Ryan also leads both teams with 8 shots on goal.
Kyle Cumisky great puck handling skating in untouched, Larsson had no idea where he was going to shoot it, Cumisky faked left but went right to slide it glove side past Brust.
Cal O'Reilly with a breakaway scores for Canada.  Larsson tried to poke check the puck away but as he did that O'Reilly slide it in through the five hole.
Now the games really starting to open up, three goals scored in a matter of 60 seconds of the game.
End of the second period, Canada has a 8-5 lead over Planet USA.   Canada also has a 35-30 shot advantage.
Third period is about to start.  Starting the period in goal for the Canadian side is Tyler Weiman (Lake Erie) with Jeff Frazee on the opposite end for Planet USA.
Ryan Potulny to Jeff Taffe who put it high glove side past Weiman to get USA back within two goals.
Jared Ross had his back with the puck to two defenders, dropped it off to Ryan Potulny to make it a one goal game.
Planet USA ties the game at eight!  Mattias karlsson took a high wrist shot beating Weiman stick side.
We have ourselves a hockey game now.  Not only has USA gotten back into the game, but Canada is picking things back up a bit.
Teddy Purcell and Corey Locke are exciting to watch.. they seem to know where one or the other is.  This time Purcell passed it through the legs of Ben Lovejoy and right onto Locke's stick to get Canada a one goal lead.
Mark Mancari gets his first goal of the game tipping a pass from Kyle Cumiskey right past Jeff Frazee.
Michael Ryan and Artem Anisimov were both parked in front of the net waiting for a rebound, Ryan looking for the hat trick, but Anisimov got his stick on the puck first.  That gets USA back within one goal.
Excellent wrist shot by Jared Ross to go top corner stick side beating Weiman.  That ties the game back up, it's 10-10.  Could there be a 'conspiracy' getting worked up to try and get the game to go into the shootout, similar to the NHL All-Star game?  hmmm..
Mancari with a great back hand shot right into the chest of Frazee.  For the first half of the game Mancari seemed to be passing rather than taking the shot.  He was credited with an assist on the first goal of the game by Corey Locke.
Corey Locke fantastic goal!  Frazee saw Locke in front of the net and was twisting side ways to stop what would have been an easy goal, instead Locke held onto the puck and tipped it in backhand into an open net.  Mancari got his second assist of the night on that goal as well.
Jeff Taffe for Planet USA beats Weiman glove side to tie the game at 11.
Chris Bourque gets his first goal of the game after being stonewalled twice earlier in the game.  Cross ice pass from and then Bourque whacked it in with some extra emphasis to make sure it went in and wasn't stopped again.  Planet USA finally gets a lead in the game.
One more goal by either side will tie the record for most goals in one game!
That ties the record books!  Ryan Potulny gets an empty net goal, well, a defensemen was standing in net after Weiman got pulled but he had no chance of stopping it.
Martins Karsums breaks the record to score the 25th goal of the game.  Karsums and Bourque took turns passing the puck, almost as if neither want to score the easy goal.
That's the game, Planet USA wins 14-11!  We'll have a complete wrap up of the two days tomorrow along with what was discussed at the State of the League address with David Andrews.