The Amerks showed off the changes to their jerseys today for the upcoming season and also announced radio details.
The change in the jerseys is the return of the horizontal stripes across the bottom of the jerseys along with bringing back the blue jerseys for road games.  The striping had originally disappeared because Rbk said they were not possible which it turns out wasn't true.  The jerseys look a lot better with them back on.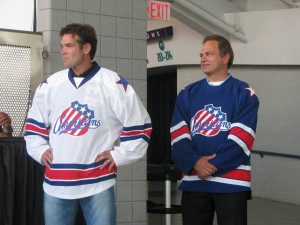 The team also announced that the Amerks signed a 3yr deal with Clear Channel to air games on WHTK-AM 1280 which is now also being simulcasted on WROO-FM 107.3 in Rochester.  The team will also being airing the in arena pre and post game shows on the radio where they'll be recapping games, conducting interviews, and also have the ability to take phone calls.
Also announced was that Ted Nolan will have a weekly show with John DiTullio at 4:05pm to talk hockey.  Nolan said the show will, "give fans a chance to vent but hopefully it'll be talking about excitement with the team."  The show will debut on September 30th.
Talking about Mike Sgroi, Ted Nolan said that Jody Gage knew about him and brought his name up.  Nolan said that when they talked he made sure it was clear that he could not promise him anything.  Sgroi replied that he was excited about the chance.
One of the questions about Sgroi is wondering why he has not had the chance to earn a spot on a team, he's played for 20 teams over the past 10 years.  Sgroi had told Nolan, "I didn't mature until I was about 26 or 27."    Sgroi just turned 31 in August.
That's a similar story to how Ted Nolan started playing for the Amerks in the 80's.  Nolan did not have a job, was given a chance with the Amerks and earned a job.
Defenseman Thomas Harrison has also been invited to camp, a player known for his toughness.  With the depth on defense there's little chance he earns a roster spot out of camp.  The Amerks want more depth players available with the Everblades so that could be a final destination for Harrison.
Training camp opens on September 24th, until then it's anyones guess who stays with the Florida Panthers, who stays with the Amerks, who gets sent down and who gets released.