If there was one player that fans disliked the most last season in Rochester it was Center Shawn Matthias.  In 61 games last season Matthias finished with 10 goals, 10 assists and a team worst -34 in the +/- column.  It was expected that he was going to be an offensive force.  Someone who could score goals and have a presence on the ice.  None of that happened, Matthias struggled all season.
He was hard on himself.  He heard the fans being hard on him and he knew he deserved it.  This season he'll have the chance to redeem himself.  Based on reports coming out of the Panthers camp in Nova Scotia it's sounding like he has a real chance to make the Panthers roster out of training camp.
Shawn Matthias not returning to the Amerks is something I know a lot of Amerks fans would be happy about.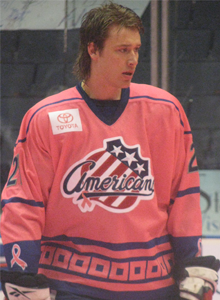 Matthias mature, on a mission
Call-ups to Panthers made young center grow up, work harder
By Steve Gorten South Florida Sun-SentinelSeptember 15, 2009
Port Hawkesbury, Nova Scotia -Â  Shawn Matthias says he was a little lazy last year.
And immature. And out of shape. And probably a little too confident after scoring two goals in his second NHL game as an emergency call-up from juniors the season before.
It wasn't that he meant to be any of those things, he says. That's just what he was as a 20-year-old center at Panthers training camp last September and for all but the final two months of the AHL season in Rochester, N.Y.
"Definitely, it was disappointing," Matthias said. "I don't blame anyone but myself."
Now 21, Matthias is still a fresh-faced, promising prospect with spiked hair. He just sounds like an old man reflecting on his days as a young, dumb kid. Unlike last fall, it's not the hype that leads one to believe Matthias just might make the Panthers' opening-day roster. It's his attitude, coach Pete DeBoer says, and conditioning.
Read the rest of the story by Steve Gorten on the Sun-Sentinel site