The Rochester Americans defeated the Lake Erie Monsters in a rematch of last weeks opening night contest  The Amerks won the game off of a strong performance in net from Tyler Plante as well as five goals scored by the offense.
Waitaminute… Strong goaltending and five goals leads to a a win.  I don't think I've written that since I've started this site.
Benoit Groulx notices the play of Tyler Plante saying, "He's competing really hard.  This is what we needed tonight to win this game.  It's fun to see that Tyler is having this start."
In only two games Tyler Plante has showed that he's taking his job very seriously this season.
The down side to the night?  There was only 2,213 people at the game.  That's a completely different topic that I'll be addressing soon.  Anyone REALLY concerned needs to remember it's still only the second game.  Again, more on that soon.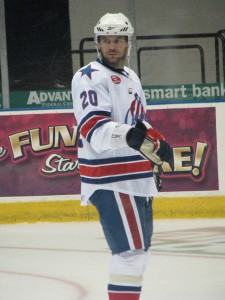 One of things talked about after the opening night loss was how the roster was going to be different this week and it sure was.  Six players played tonight that did not last week.  The additions of Jeff Taffe, Michal Repik, Mike Duco, Jason Garrison, Mike Caruso and Rory Fitzpatrick was obvious.
The first period was scoreless and the highlight had to be the Monsters 5 on 3 power play that the Amerks successfully killed off.  They did not allow any really great scoring chances.
The Monsters outshot the Amerks 14-4 in the first period which is something this team can't allow to happen again.
Mike York put the Amerks on the scoreboard 17 seconds into the second period.  Jeff Taffe was chasing Monster defenseman Brian Fahey towards the back of the Monsters net when Fahey appeared to lose an edge, lost the puck and fell to the ice.  Taffe was patient and waited a split second, passed the puck to Michal Repik who immediately slid the puck to Mike York who was all alone to easily put the puck to the back of the net.
It only took another 61 seconds for the Amerks to take a 2-0 lead.  Mike Caruso was leading the way down the middle of the ice with Kenndal McArdle coming up on his left side.  Caruso slid a perfect back hand pass to McArdle who unleashed a hard slap shot from the top of the face off circle and beat Trevor Cann gloveside.
To the naked eye it looked as if it should have been called for offside.  I watched the replay in slow motion and Caruso slid the puck absolutely perfectly along the blue line as he crossed over.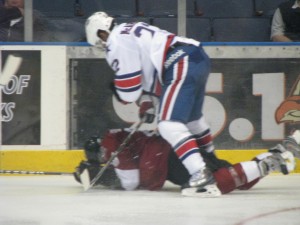 At 4:09 of the second period Kenndal McArdle and Chris Durno mixed things up along the boards and both went to the box for roughing.  No gloves were dropped but they did not appear to be happy with each other.
I don't recall McArdle hitting last season as much as he seemed to tonight.  It seems as if McArdle is taking on a different role this year.  He played a solid game across the board.
I asked Groulx about McArdle and he said, "I thought he was one of our best players tonight.  He gets involved.  He uses his speed and his shot.  He was a force tonight.  He did a great job going on forecheck, provoking things, and being physical."
The Monsters made it a 2-1 game at 9:53 of the second period off a Chris Durno goal.  The play was 4 on 2 with only Jason Garrison and Jordan Henry trying to stop the odd man rush.  Josh Aspenlind was coming down the right side when he made a cross ice pass to Derek Peltier who passed it right back to Chris Durno coming down the middle and then had a wide open shot and beat Plante stick side.
Lake Erie started the third period down 2-1 but answered back tying the game 2-2 at 5:58 with a power play goal scored by Brian Fahey.  Chris Durno made a great pass under Rory Fitzpatricks stick to Brian Fahey who outskated Clay Wilson to shoot the puck glove side.
Chris Durno was serving a two minute slashing penalty when Jeff Taffe scored the Amerks game winning goal at 9:28 of the third on the power play.  Taffe saw a clear path to the net and skated right in on Trevor Cann and just barely shot the puck through the five hole.
The Amerks scored two quick power play goals.  The first came on a 5 on 3 and with another Monster still in the box they scored again 5 on 4 within one minute.  Yes, you read that correctly.  Two goals on the power play in less than two minutes.
If this game was Jeff Taffe playing rusty after essentially having the last two weeks off I can't wait to see him play when he's back to the grind.  He's fast, makes great passes, and has a great eye on where to shoot the puck.
Less than a minute later Jeff Taffe tried to put the puck on net and it bounced off of a Monster player.  Mike York snagged the loose puck and with a hard slap shot put the puck into the net for another power play goal.
With 1:29 left in the game Michal Repik put the icing on the cake scoring an empty net goal to give the Amerks a 5-2 lead and eventual win.
The Amerks were getting on a bus tonight to head to Albany for their game Saturday night against the Albany River Rats.  A solid third period was a great way to end the night.
Benoit Groulx said, "We got better as the game went on.  I thought the third period was our best and hopefully we can carry that momentum into tomorrow."
Other Game Notes and Thoughts:
** Not too bad for a team that barely had a full week of practice together.  Taffe, Repik, Garrison, and Duco had not played in almost two weeks but they were still productive.
Groulx said, "We have many guys where their timing is not exactly what we'd like to see, its a matter of time."
I can't wait to see what this team does once they really create some chemistry and know each other a lot better.
** David Brine is an asset to this team.  I'd be curious to know his face off percentage.  He's also constantly used on the penalty kill and power play.  He may not be a big time goal scorer but he contributes in other ways and is consistent.
** Brady Calla and Andrew Sweetland received a decent amount of ice time during the first two periods.  With no real room left on the roster for any more additions these two need to do everything they can to impress management.  Calla seems to be winning the battle.
When asked about those two players Benoit said that he thought Calla played a good game but had a slightly different thought about Sweetland.
Groulx said, "Andrew can do much better.  He does not play with confidence and he's responsible for it. He's a two way player and he's got to find a way to make better plays with the puck and its about being more assertive out there.  Right now with Andrew hes hesitant when he's on the ice.  He's got to do better than this."
** I don't recall exactly when it happened in the third period but Jason Garrison leveled David Marshall of the Monsters against the back boards.  If the team can continue scoring goals and making big hits like that it will continue to be an exciting season.
** The Amerks released Jimmy Bonneau earlier in the week and then sent James DeLory to the ECHL on Friday afternoon.  That left the team without any "muscle."  At one point in the second period the Monsters appeared to be trying to work the Amerks harder to gain momentum but they were not successful.  The Amerks answered back offensively going on to win 5-2 but the real test for this will be on Monday against the Syracuse Crunch.