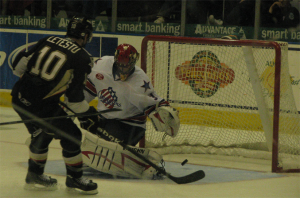 The Amerks had a repeat performance Friday night of a game against Syracuse, they played to not lose instead of playing to win.
"It was a good first and we coasted after that," Benoit Groulx said in his short 45 second press conference.
Its easy to tell when Groulx is not happy versus when he is to put it bluntly pissed off.
The thoughts of the players in the locker room was that they know they coasted. They held back. They were saving themselves thinking of the stretch ahead.
A dangerous mindset to have but luckily they have Alexander Salak in net to keep them in the game.
But hey, they won the game. They picked up two more points. This was their fourth win in a row. The team also has not lost in regulation this season when scoring first.
It was also the biggest crowd in the Styres era even if the numbers appear off (meaning it seemed like a lot more).
And did you see the play Andrew Sweetland made to setup Jordan Henrys game winning goal? Awesome!
Sorry about the short post game writeup, decided to head out after the game instead of writing a story.  Bottom line is that the Amerks played hard for 20 minutes, coasted for the remaining 40 and almost paid the price with a loss.