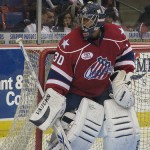 Monday turned out to be a busy day for all of the goalies in the Florida Panthers organization.  Had some other things planned today so I'm a little late to the party.  Chances are you know these things already, but I still wanted to post to keep everything up to date.
** As noted during the game on Saturday night it looked as if Tyler Plante was favoring his knee again and it turns out he was.  Plante did not make the trip out west with the team.  His knee became swollen and for goalies trying to make butter fly saves, that's not a good thing.  If he was a player he said he would be just fine.  He could be out another week, it could be a few more weeks.
** Chris Beckford-Tseu was called up to backup Alexander Salak on the road trip and possibly beyond.
** Tomas Vokoun suffered a laceration to the ear on Monday night at the hands of his own player.  Keith Ballard swung his stick trying to hit the post in frustration after a Thrashers goal but instead hit Vokoun in the head.
http://www.youtube.com/watch?v=92tnSvzk7t8
When the news of Vokouns injury started spreading through Rochester you could hear a loud "oh #@$&" coming from every Amerks fan.  If it turns out that Vokoun is not able or at least sit on the bench as a backup it could spell trouble for the Amerks as the Panthers would call up Salak.  The Amerks and Panthers do not have any more goalies "in the system," so they'd have to find someone to sign to a PTO.
After the game Randy Sexton would not say if Salak would be needed to backup Clemmensen on Wednesday night.
The good news is that Vokoun left Atlanta with the rest of the team.  He showed no symptoms of a concussion and will likely be ok.
** If Salak stays with Rochester he'll likely start the remaining four road games.  The Amerks have two games in two days, two days off, and then two more back to back games.
What a mess right now.  We'll know more on Tuesday morning as to whether or not Salak will get the call.
Amerks at Manitoba Moose on Tuesday at 8:30pm EST.  The start of four divisional games where the two points in each game have a lot more meaning.