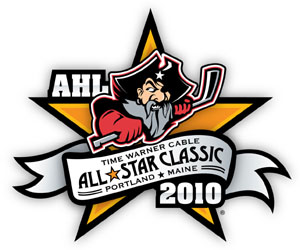 Graham Mink was named a playing Captain on Thursday for the 2010 AHL All-Star game and with that honored he joins a distinguished group of current and former Amerks.  Previous Amerks honored as AHL All-Star Captains include Jody Gage, Randy Cunneyworth, Denis Hamel, and Rory Fitzpatrick.
All you have to do is look at Mink's resume and watch him play to understand why he was honored.  Two Calder Cup championships.  Leadership.  Scoring.  Play's hard every game.  He has fun.  He's smart.  Involved in the community.  The list goes on.
I'll be traveling to the All-Star Game again this season and will have full reports again.
You can vote for players, plenty of Amerks on the list, into the AHL All-Star Game here – http://theahl.com/forms/ahl-all-star-ballot-f1
Here's the complete press release from the American Hockey League:
For Immediate Release
December 3, 2009

MINK TO CAPTAIN PLANETUSA ALL-STARS AT 2010 TIME WARNER CABLE AHL ALL-STAR CLASSIC

(Rochester, NY)… American Hockey League President and CEO David Andrews announced today that Nolan Baumgartner of the Manitoba Moose and Graham Mink of the Rochester Americans will serve as playing captains for the 2010 Time Warner Cable AHL All-Star Classic, to be held January 18th-19th at the Cumberland County Civic Center in Portland, Maine.

Captains for the American Hockey League All-Star teams are selected by the league president in recognition of their outstanding service and leadership to the AHL.

Graham Mink also began his AHL career in Portland, skating for the Pirates from 2001-05. The ninth-year pro went on to win two Calder Cups with the Hershey Bears (2006, 2009) before signing with the Florida Panthers and joining the Rochester Americans in 2009-10. Mink has totaled 190 goals and 190 assists in 522 career AHL games, and has appeared in seven NHL contests, all with the Washington Capitals. The native of Stowe, Vt., will be making his first AHL All-Star Classic appearance and will captain the PlanetUSA AHL All-Star team. Mink becomes the second Rochester player in as many years to be named team captain for the All-Star classic, following Rory Fitzpatrick's selection last season.

A first-round draft choice by the Washington Capitals in 1994, defenseman Nolan Baumgartner is in his 14th professional season and 13th in the American Hockey League. Baumgartner has played 306 of his 739 career AHL games with Manitoba and has also spent time in Iowa, Philadelphia, Norfolk and Portland, where he spent his first four campaigns with the Pirates. Previously an AHL All-Star in 2005 and 2007, Baumgartner also has 131 career NHL contests to his credit, skating for Dallas, Philadelphia, Vancouver, Pittsburgh, Chicago and Washington. A native of Calgary, Alta., Baumgartner will captain the Canadian AHL All-Star team.

Previous players honored as AHL All-Star team captains include Bryan Helmer, Rory Fitzpatrick, Denis Hamel, Keith Aucoin, Mike Keane, Eric Healey, Craig Darby, Travis Richards, John Slaney, Randy Cunneyworth, Ken Gernander, Rob Murray, Peter Laviolette, current Philadelphia Flyers head coach John Stevens and American Hockey League Hall of Famers Jody Gage and Tim Tookey.

Of the 488 players to take part in the AHL All-Star Classic since 1995, more than 93 percent have competed in the National Hockey League, including Patrice Bergeron, Brad Boyes, Dan Boyle, Danny Briere, Brian Campbell, Zdeno Chara, Rick DiPietro, Miikka Kiprusoff, Kari Lehtonen, Ryan Miller, Zach Parise, Bobby Ryan, Martin St. Louis, Jason Spezza, Eric Staal and Tomas Vokoun.

The 2010 Time Warner Cable AHL All-Star Classic will feature the 2010 AHL All-Star Skills Competition on Monday, January 18th (8:00 p.m. ET) and the 2010 AHL All-Star Game on Tuesday, January 19th (6:00 p.m. ET), and will be televised live nationally in the United States and Canada.

Tickets for the 2010 Time Warner Cable AHL All-Star Classic – which include admission to both the Skills Competition and the AHL All-Star Game as well as an official commemorative All-Star Classic event program – are $49 (rows 1-12 in all sections) and $42 (rows 13-24 in all sections). To purchase tickets call (207) 775-3458, visit the Cumberland County Civic Center Box Office or go on-line at portlandpirates.com.