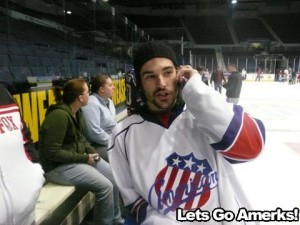 We all know that the Amerks are in need of some warm and healthy bodies to fill out the roster (updates on injuries/callups here) but what was not expected was for Dylan Hunter to be a player brought back to help out.  Hunter has been playing for the Utah Grizzlies this season who posted the news on their web site Thursday afternoon.
What may also be surprising is that Hunter is currently 12th in the ECHL in scoring with 10 goals and 13 assists in 19 games, six of those goals being scored on the power play.  Last season with the Portland Pirates he only had three goals and 13 assists in 45 games.
He played two seasons with the Amerks from 2006-2008 with the 2nd of the two seasons being his best.  During the 07/08 season which was one of the worst in Amerks history Hunter found a way to score 20 goals and assist on 27 others.  That was the last season of the dual affiliation between the Sabres and Panthers.  It was also the season that no one knew what the future would hold for the team.
The last time he played in Rochester he was probably happy to get out, I'm sure he'll be excited to be back and helping out a winning team with a much better atmosphere.
In other news, it turns out that Mike York is NOT injured but has been giving a leave from the team to take care of personal issues.  I still question his play in recent weeks and this could be a part of that.  If something else is going on in life sometimes you lose focus at your job, whether your a professional athlete or have a "normal" job.
It does raise questions though about why the Amerks lied about the situation to Kevin Oklobzija of the D&C (read his take here) and even Don Stevens on the air to fans.  There's only a few of us (members of the media) that ever ask questions about the team, I would hope they'd trust us (especially Kevin) well enough to just say "personal issues" for a players absence and expect the topic to be written about with respect.
Let's just hope it's the last time something like this happens with the media, the team is riding high, they don't need anymore bad publicity that could surely be avoided.  The team claimed they were going to be the most open franchise and this goes against that credo.
Ted Nolan told Kevin that they did not have a timeline for his return which brings up more concerns about who is going to step in and take his place.  Between call ups, injuries, and now this heading into the middle of the season there's reason to be cautious.