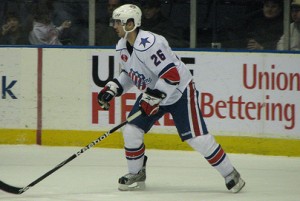 It really shouldn't come as a surprise to Amerks fans anymore that after the Florida Panthers play a game chances are they'll experience another injury.  It happened again on Friday night when Dominic Moore essentially stabbed himself with his stick.  The result was Michal Repik being called up after the Amerks loss on Friday night.
The Panthers lineup is starting to resemble the Amerks lineup at the start of the season.  Repik will join Shawn Matthias, Mike Duco, Jeff Taffe, and Victor Oreskovich.
It's frustrating to Amerks fans and we just have to hope this is happening now and does not continue later in the season.  Unfortunately that's probably a high hope.
The only other players with the Amerks that could fill in on Saturday night are Peter Aston and James DeLory.  I asked Benoit Groulx after the game Friday night if DeLory would play and he just said that he did not know and moved on to the next question.
I've been told DeLory is just here to work with Steve MacIntyre, but for him to not even get a mention seems like he's really bad or he's just stuck here and they can't find another place for him to play.  DeLory did appear to be going on the trip to Hershey so we'll have to wait and see.