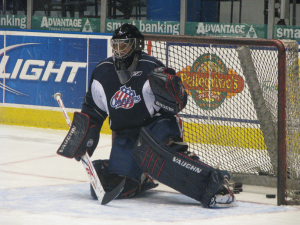 You can probably file this one under the category of not really important in any way… but Chris Beckford-Tseu packed his bags after tonights game to fly to Florida and play one game for the Everblades and then return on Thursday.
It's entirely possible we'll see Beckford-Tseu get a start this weekend for the Amerks so it'll help him to get a game in.
The Amerks have a home and away series with the Hershey Bears on Friday and Saturday and then return home to play the Hamilton Bulldogs on Sunday afternoon.
He was stopping pucks during practice on Tuesday morning and played a decent game on Hershey last Saturday.  The confidence in him still is not very high, but I'm still hoping for miracles.