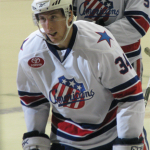 David Brine has been out with a rib injury and will return to action on Wednesday night vs the Hamilton Bulldogs.  I caught up with him at an Amerks youth camp this afternoon that my son took part in.  Brine has been out since early December and has been missed on faceoffs and the penalty kill unit.  The Amerks PK unit was near the top of the league but has since fallen to the middle of the pack.
In 23 games this season Brine has 9 goals and 5 assists, 2 of those goals were scored short handed.
I think I've mentioned a few times over the past few days that the team seems to be getting back on the right track both with their play and players.