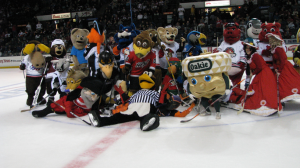 One aspect of the AHL All-Star Game and Skills Competition that probably doesn't get all that much air time is the impact that the mascots have on the crowd.  They entertain fans inside and outside of the building on both days.
Yes, I am writing an article about people wearing costumes.  As I talked to a lot of people at the event it seemed like everyone enjoyed them but they (adults) were not sure if they should admit to it or not.
The Portland Pirates have two mascots, Crackers and Salty Pete.  The city of Portland received over a foot of snow the night before the skills competition so of course there was a lot of digging out to do.  On his way to the arena we caught Crackers helping out a local business with clearing snow off of the sidewalk.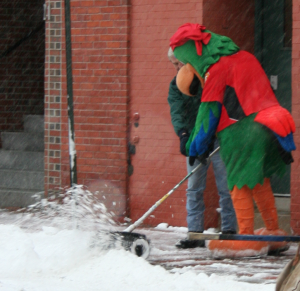 You can view a full gallery of pictures of the mascots we took during the two day event below.
T-Bone from the San Antonio Rampage was clearly the fan favorite during the event as he performed around the arena.  At one point during the game a section chanted his name so he would go over and visit them.  T-Bone was really impressive as he performed the worm dance move on the ice during an intermission.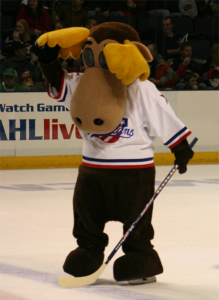 The Rochester Americans mascot The Moose was also present at the event for the first time in a number of years.  It amazes me traveling around the AHL how many people comment about the Amerks and everyone hopes they return to the playoffs as soon as possible.  The Moose may not have the dance moves of T-Bone or wild antics of some of the other mascots but his presence was great for the Amerks.
Tux from the Wilkes-Barre/Scranton Penguins was on the ice trying to fight anyone he could.  There's never going to be a fight between the players at an All-Star event so the mascots take care of that part of the game.
The Lake Erie Monsters have The Mullet Brothers which are described as, "professional hockey's most fashionable, and dangerous, ice maintenance crew."  There was one member of the Mullet Brothers in attendance and not only did he clean the ice but taunt the fans on the other side of the glass as well.
The next time you're at an event give a mascot a high five.  They are there to make you laugh and smile.  They can be annoying and get in the way sometimes but the overall impact they have on a sporting event is positive and should be noted.
Sitting high up in the press box (something I rarely do) I noticed the mascots more than usual and wanted to give them their five minutes of fame online.  I do have more interesting hockey related stories that I'll be posting in the coming days.
Picture Gallery: