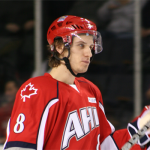 Update 1/24/2010 (a day after original post below): Keaton Ellerby did NOT break his finger as originally thought and is being listed as day to day, which is good news!
Just what the Amerks needed, an injured defenseman.  I believe it was late in the first period when Ellerby caught a puck in his hand and after that he just wasn't the same.  Ellerby left the game halfway through the second period because he wasn't able to hold on to his stick well enough to keep playing.  Amerks trainer Kent Weisbeck told me after the game that he'll get x-rays on Sunday. and that it's a possible broken finger.
A broken finger typically takes 4-6 weeks to heal, which is potential bad news.  Hopefully it won't be that bad and he'll still be able to play (wishful thinking?).  We should know more on Sunday evening what his status is.
Steve MacIntyre played defense at one point in his career, why not suit him up and see what he can do?  Worst case scenario is that you play Luke Beaverson as a forward and if it doesn't work out just swap them.